If Beale Street Could Talk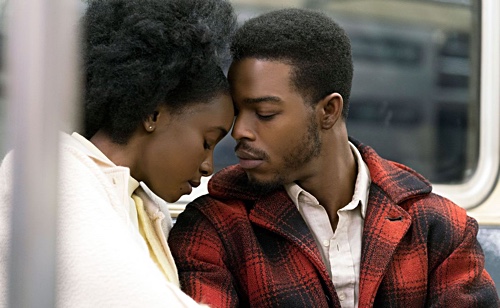 If Beale Street Could Talk (2018)
★★★★ / ★★★★
Make no mistake: "If Beale Street Could Talk" is a love story. But not simply under a romantic definition. Although the plot revolves around Tish (KiKi Layne) and Fonny (Stephan James) hoping to be reunited following the latter being falsely accused of rape and sent to jail, its true center is the love shared among family. It is amazing and so refreshing that less than fifteen minutes into the picture, director Barry Jenkins, who also penned James Baldwin's novel of the same name onto screen, is able to establish the Rivers family bond with convincing puissance. And throughout the film the father (Colman Domingo), the mother (Regina King), the elder sister (Teyonah Parris), and Tish herself show what they are willing to do and sacrifice in order to bring home the newest member of their family. You see, prior to the wrongful arrest, Tish and Fonny are expected to be married.
An elegant drama down to its marrow, from the way it looks to how expected trappings are introduced only to be circumvented last minute, the film is an exercise of creating an experience that can be felt long after the movie is over. Particularly intriguing is that every supporting character, no matter how small, is memorable. An excellent example is Daniel, played in such a haunting way by Brian Tyree Henry, a parolee of three months. He spent two years in prison for a crime he did not commit… but was forced to confess because somehow the corrupt system—one rigged against people of color, particularly African-Americans—trapped him into choosing one bad charge over another worse charge.
This character's smile and laughter is so big that he brightens up a room without even knowing it. He is like that warm uncle during family gatherings who knows exactly what to say and when. But the moment he recalls his experiences in prison, this man's trauma is so powerful, his words seep directly into our skin and make their way into the darkest corners of our imagination. He avoids specifics of what happened to him during his imprisonment. And yet it couldn't be any more clear. It is an extraordinary performance in a film brimming with it. Even Dave Franco as a landlord with less than twenty lines is given time to shine.
I was enraptured with the fact that the drama is never one-dimensional. On the one hand, it is the aforementioned love story. Another angle is the black experience in a country that hates black people, a country that considers them to be worse than animals back in the early 1970s. As a person of color, the work is so vivid and specific that there are details that surprised me. An example is Tish's experience as a perfume girl in a department store that hires mostly white employees. Via narration, she reveals that she is very much aware that she is, essentially, the token black girl. She tells us, almost directly whispering into our ears, the many type of customers that approach her: white old women, young black men, old white men… Each one is different—whether they choose to touch her, let alone approach her, or even look at her for more than a few seconds. I felt her humiliation, anger, sadness, and even acceptance because that was just the way things were.
The writer-director is not afraid to get up close and personal during the most unexpected moments. This is why the movie works on three fronts: as a family drama, a social drama, and a powerful statement—a current statement—about race, about class, and about a rigged system designed to punish black people and keep them less powerful than their keepers. In the examples I cited above, these are scenes and characters that are not necessary to tell this particular story. We have seen this story before, many times over. However, what makes it special is because of these "unnecessary" elements. They are the flavors of a specific experience and this is why, beyond a shadow of a doubt, "If Beale Street Could Talk" should and will stand the test of time.