Paradise Lost 3: Purgatory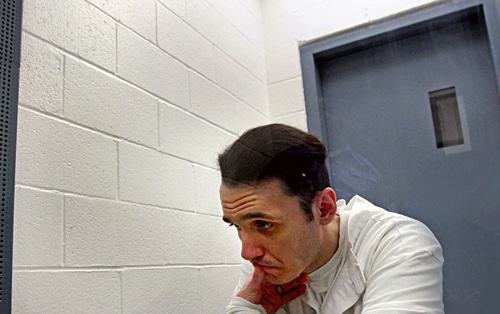 Paradise Lost 3: Purgatory (2011)
★★★★ / ★★★★
Damien Echols, Jason Baldwin, and Jessie Misskelley Jr., teenagers at the time, were convicted by the state of Arkansas of killing three eight-year-olds: Steve Branch, Michael Moore, and Christopher Byers—whose bodies were found naked and mutilated in West Memphis' Robin Hood Hills. Despite overwhelming reasonable doubt that the trio, eventually known as the West Memphis 3, did not commit the murders, they were nevertheless sent to prison by the jury—Echols to receive the death penalty—because it was rumored that they were devil worshippers.
Directed by Joe Berlinger and Bruce Sinofsky, "Paradise Lost 3: Purgatory" does an excellent job in summarizing the events and key information presented in the first two films and introducing a great injustice to a new generation. Equally compelling is the way it introduces new evidence, mainly DNA evidence, and the renowned specialists who go on record stating that they have found no physical evidence that linked the West Memphis 3 to Branch, Moore, and Byers.
It proves difficult not to feel angry toward the incompetence of various people supposedly responsible for protecting the rights of the innocent, from the cops who failed to perform their jobs the right way to the judges who continued to look the other way for almost two decades because they were, essentially, worried about their reputation being tarnished. Mind-boggling as the new evidence are, watching the aged faces and bodies of Echols, Baldwin, and Misskelley Jr. felt like an invisible hand reaching into my gut and twisting it. Picturing them being in jail for half of their lives is like looking inside a dark dream, a reminder that our justice system, despite its positive qualities, is still very much flawed. And if silly things such as rumors about worshipping the devil could send innocent people to jail, just about anybody could meet the same fate and for equally silly reasons.
I could not help but feel sad for everybody involved. First, justice has not been served for the murdered kids. The killer, or killers, is still out there. Second, the West Memphis 3 have been robbed not only of their reputation but also their youth. Instead of serving time, they could have done plenty with their lives. Echols, especially, has an eloquence and insight about him that at times I pictured him as a counselor or a psychologist in another life. Third, it seems obvious that the families of those directly involved will never completely recover from what happened.
Most fascinating is the transformation of John Mark Byers, stepfather of one of the murdered children, from wanting to kill the convicted teens, now men, to supporting their release. Those who have not seen the previous films would probably not completely understand or appreciate the extent of Byers' ravenous appetite for vengeance back when he was utterly convinced that Echols, Baldwin, and Misskelley Jr. killed his stepson. Watching him previously compared to this film likens that of a rabid dog that had been miraculously cured. I was amazed; I had to blink twice to make sure that he is the same man who created a fire in the forest and pretended that he'd killed the West Memphis 3.
While "Paradise Lost 3: Purgatory" eventually introduces a potential suspect, I almost wished it had not. Although very interesting, what if this person, despite major gaps in his statements, is actually innocent? I don't know. Let's see if time will tell.
There is one certainty: We do not need another witch hunt.