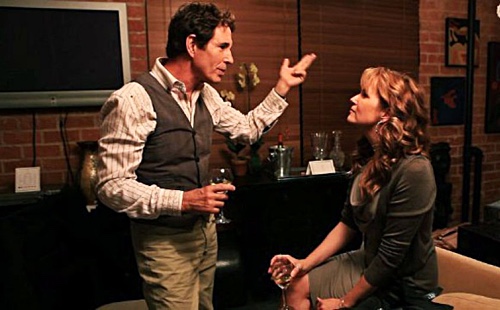 The Trouble with the Truth (2011)
★★★ / ★★★★
When Jenny (Danielle Harris) reveals to her father that she is engaged, Robert (John Shea) is less than ecstatic. He expresses his disappointment by claiming that the man she wants to marry is a doorknob, a pencil sharpener—painfully ordinary through and through. Although the news is about Jenny, the scene quickly becomes about Robert. His current attitude toward marriage is defined by his divorce with Emily (Lea Thompson), a successful writer who had since gotten married to a prosecutor. Shaken by his daughter's news, Robert calls Emily. She happens to have a trip to Los Angeles the next day and so the former husband and wife decide to have dinner.
Written and directed by Jim Hemphill, "The Trouble with the Truth" is intelligently written and executed with a seemingly real understanding of what it means to be married, divorced, and to reconnect in a different way. The key word is "seemingly" because although I can admit to the picture's technical proficiencies, I found myself unable to connect to it emotionally and psychologically in a deep way. Perhaps I do not have yet the maturity and experience that are necessary to appreciate all of its subtleties.
Shea and Thompson create believable adults who are once married but are entertaining the possibility of getting together again. I was surprised by the screenplay because instead of making Robert and Emily as likable as possible in order for us to root for them to get together, it seems more interested in revealing their flaws slowly then suddenly, the unanswered questions they have for one another, and the lingering insecurities that have latched onto them despite a period of time of not seeing or talking to one another.
The picture is designed for those who are regaled by observing one event unfolding in real time. Here, the couple discuss a range of topics over dinner at a relatively classy restaurant, from the impersonal to wounds that are only beginning to scab. It is quite beautiful and enthralling how Thompson and Shea are able to create characters with distinct, if not polar, personalities and yet the more they speak, the more we come to understand why they decided to get married in the first place: Despite their many differences, they are willing to meet each other halfway. Conversely, we come to understand why they separated.
And yet maybe the point is not in seeing the trouble to rekindle the romance they once shared. One can argue that it is about a couple getting some sort of closure from one another. Though they are able to speak with other openly, the material really gets interesting when a character moves a little closer and fishes for certain details that he or she has been unsure about for years. The question of how many affairs each had been involved with while they were married is an obvious example.
Shot in warm colors and relaxed pacing, "The Trouble with the Truth" features characters with a lot contradictions and that is exactly what makes them so interesting. They may preach one thing but the real challenge is in figuring out which part of it they really believe. We are placed right there at the dinner table, constantly evaluating the situation, what they are thinking, what they are really saying.