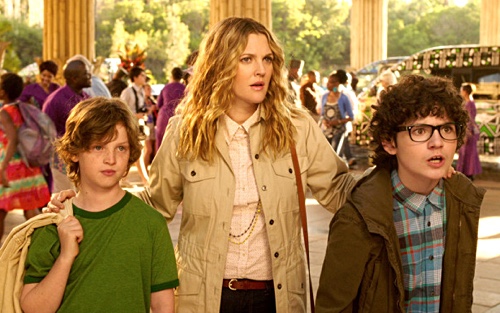 Blended (2014)
★ / ★★★★
The first date between Jim (Adam Sandler) and Lauren (Drew Barrymore) at Hooters is a complete fiasco. The food is terrible, the venue is inappropriate, the conversation is either bland or offensive, and not once did either of them feel a spark that might warrant a second date. They're convinced they are never going to see each other again. But given that this is a romantic-comedy, of course they do.
The screenplay by Ivan Menchell and Clare Sera is to blame for the picture's lack of overall energy, entertainment value, and real emotions worth investing in. Without Barrymore and Sandler's charm, I would not have been surprised if the film had not been given the green light. There are very few things here that makes it worth sitting through for two hours. Why watch this rubbish when Peter Segal's "50 First Dates," starring both Barrymore and Sandler, is lightyears more worthwhile?
I laughed a couple of times. Although a cliché, I liked that the single parents either have children that are all boys or all girls. The running gag that involves Hilary/Larry (Bella Thorne) being mistaken for a boy because she clothes herself in an athletic way and has a boyish haircut works for the most part because it is never mean-spirited. Thorne is quite good because unlike the other young actors, she never exaggerates.
Of course there is an inevitable makeover scene when we are shown how beautiful Hilary really is given the right haircut and clothes. But what I loved about it is Thorne's decision to downplay the character. Everything is exaggerated: the flow-y extensions, the bright short dress, the makeup, and the shot unfolding in slow motion. But what does she do that stands out? She keeps her shoulders square, holding a lot of tension, which looks awkward—but it is right. Hilary comes across as a real person because for years she didn't feel like she was beautiful. A makeover does not alter one's confidence—at least not right away. I appreciated that the performer has the insight to keep it somewhat realistic.
I found its representation of Africa insulting at times. Everybody is a caricature in the resort. While the material is supposed to be light, accessible, and friendly, it did not need to be so hyperbolic all the time. Because the representation is so cartoonish, we never get a real sense that the characters are visiting a real and wondrous place. Later in the film, some of the characters claim that they miss Africa. We do not buy it for a second because we know that what they have experienced is a sham.
And then there is the central romance between Jim and Lauren. The screenplay spends so much time showing them interacting with one another's children that there is not one convincing scene—one that is spot-on—that is dedicated only to the couple. As a result, we understand why they want to spend time with each other's kids but not necessarily spend time with one another. We never get a sense of who they really are as a couple.
"Blended," directed by Frank Coraci, is appropriately titled because it is a mess. It does not offer enough moments of subtlety and maturity to appeal to adults. And yet it is also not appropriate for children because it does have jokes that are so inappropriate, it requires parents to do some explaining afterwards. And so who is the target audience? People who want to see Barrymore and Sandler together again? That's a low bar.