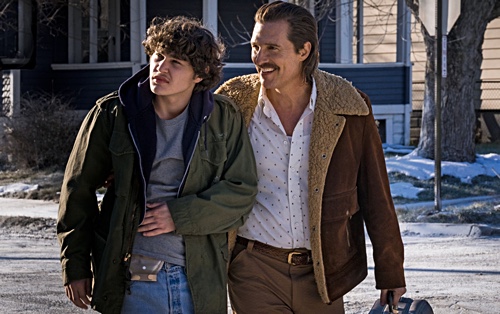 White Boy Rick (2018)
★★ / ★★★★
One might expect that telling the story of Richard "Rick" Wershe Jr., the youngest FBI informant in history at fourteen years of age who later became a drug dealer, would be compelling, but the screenplay by Andy Weiss, Logan Miller, and Noah Miller chooses to traverse the standard tracks of a biographical drama. What results is a marginally interesting story—precisely because of the subject's age and as a caucasian in a mostly black neighborhood—but with such generic rhythm and beat, it becomes apparent a third of the way through that the same story could have been told better, smarter, and more forcefully by writers who dare to turn the genre's format inside out and upside down. Like the subject himself, the film is a waste of potential.
The central performances is the film's greatest asset. Richie Merritt has a bright future ahead of him should he choose to continue playing roles that have meat on them as he does here. As White Boy Rick, he is convincing as a desperate young man who is so sick of being poor that he convinces himself that the only way to get out of it is to sell drugs—make money fast and all problems would flitter away. Supporting Merrit is Matthew McConaughey who plays Rick's blue-collar father, under the magnifying glass of FBI agents (Jennifer Jason Leigh, Rory Cochrane) for selling illegal firearms, who dreams of opening a video store someday.
When Merritt and McConaughey are front and center together, they prove to share great chemistry; they are convincing as father and son who are drowning and desperate to get out of the water. At the same time, they recognize that they are not the only ones in mortal danger. There is the cocaine-addicted sister and daughter (Bel Powley) who refuses to come home. I wished that the screenplay had honed in on the father-son relationship because there are a few scenes in the second hour that are so powerful, the viewer is likely to ponder about his or her relationship with his or her parents, regardless of one's current standing. In a way, the writers have two tasks—one obvious and the other more subtle: to tell Rick's story, specifically as an informant and a dealer, and to communicate the universality of parent-child relationships.
Less intriguing is the telling of Rick's ascent toward the inner circle of a local drug dealer (YG). Although it appears that Rick has forged friendships within the group, it holds no importance for the audience when he refers to them as people with whom he cares about. The reason is because not one is developed, particularly Boo, not even on a skeletal level. It is strange because Boo is supposed be the subject's best friend. The friend is portrayed by RJ Cyler who is no stranger when it comes to creating characters who are easy to care for or be curious about. The screenplay, too, relies too often on black stereotypes; would it have been too much to present some exceptions?
In the middle of "White Boy Rick," directed by Yann Demange, is supposed to be a story of an injustice—a juvenile (although not in Michigan, one of only four states in the United States where seventeen-year-olds are tried as adults for criminal offenses) with whom the FBI took advantage of. Yet, curiously, the film invokes minimal outrage. Although vintage cars, poverty mixed with ennui, and the hopelessness of mid-1980s Detroit are alive, the drama is undercooked.