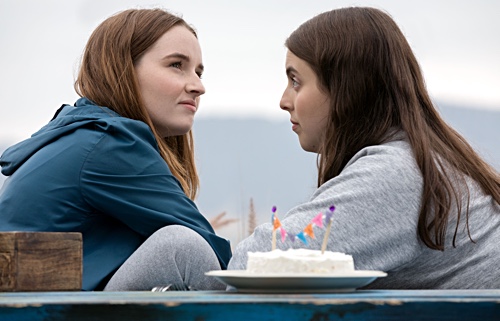 Booksmart (2019)
★★★ / ★★★★
The level of intelligence and self-awareness of high school comedy "Booksmart" can be summed up in one scene. While in a restroom stall, Molly (Beanie Feldstein), the valedictorian, overhears her classmates make jokes and say not-so-nice things about her personality, her personal style, and how she tends to come across as a snob at times.
In an attempt to put them in their place, especially given that the trio have a reputation of being slackers and goofballs, Molly exits the stall with head held high and a forced composure. She takes her time to wash her hands while an awkward silence takes hold of the room. She turns to them and tells them, essentially, that their words mean nothing because she would be attending Yale University in the fall—and that they would be nobodies by then. The sharp screenplay Emily Halpern, Sarah Haskins, Susanna Fogel, and Katie Sillberman allows the situation to backfire in such an epic way that it makes a lasting statement about the material's attitude toward the teenagers we are about to meet.
Olivia Wilde's directorial debut is clearly for those who consider themselves as outcasts in high school. The story follows best friends Molly and Amy (Kaitlyn Dever) during the last day of school and graduation day. Convinced that they missed out on a well-rounded four years given that all they did was focus on academics and get into good universities, they decide to attend a party hosted by a popular jock (Mason Gooding) and to prove to everybody that they can be fun just like everybody else. Naturally, what starts off as a petty quest evolves into an examination of a specific friendship, how it works, and, perhaps most interesting, what else could be done for it to grow.
The picture is lauded for a being raunchy R-rated teen picture. While it is that, more worthy of credit is the fact that it is not just a female version of anything. It gets compared to Greg Mottola's "Superbad" for its dirty jokes, but I think "Booksmart" is the more thoughtful picture, particularly in its treatment supporting characters. Most enjoyable is its ability to offer surprising details about the archetypes we meet. And yet the twists, once introduced, do not change the person. These are merely additional information that help us to see them in a different light. Sometimes these might explain why they act the way they do, how behavior at times is used a protection from incoming judgments. Ironically, behavior can, too, function as a magnet for judgments.
In short, the work gives us the opportunity to feel a little bit closer to these supporting characters even though they are not provided meaningful arcs—an excellent decision by the writers. Some standouts include Jared (Skyler Gisondo), the wealthy classmate—regarded as a clown by most—who is so desperate to be liked that one his gifts for those who choose to attend his graduation party is a new iPad, Hope (Diana Silvers), considered by her peers to be mean due to her brand of "honesty," and Triple A (Molly Gordon), the girl with a reputation for promiscuity—it is said she is extremely "helpful" to male classmates whose cars have broken down. I wanted to know more about these characters—which is exactly the point.
Of course, the heart of the film is Amy and Molly's friendship. It is shown through numerous examples that they are secure about their friendship. At the same time, we recognize signs, subtle and overt, that may threaten their relationship should these continue to go unchecked. They do fight eventually and I admired that it stays true to the fact that a fight with a close friend, a best friend, hurts a whole lot more than a fight with another with whom one does not consider to be as important. There are moments of searing honesty here that prevent the material from being just another forgettable teen romp.