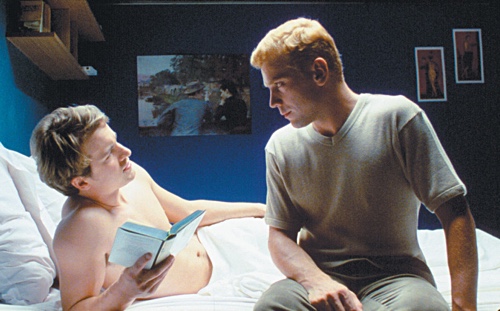 Grande école (2004)
★ / ★★★★
Paul (Gregori Baquet) has been accepted to a prestigious school which has a reputation of training graduates that become highly successful. Though his decision to room with two other guys, Louis-Arnault (Jocelyn Quivrin) and Chouquet (Arthur Jugnot), over Agnès (Alice Taglioni), his girlfriend, seems practical initially, perhaps there is another reason. Agnès suspects that Paul is attracted to Louis-Arnault. Though he denies it intensely, Agnès proposes a bizarre bet: if she beds the roommate first, Paul must stop his attraction to men; if Paul beds his roommate first, Agnès will leave the relationship in peace.
Though "Grande école," written for the screen by Robert Salis and Jean-Marie Besset, is not just another LGBTQ movie about a person who must learn to accept his sexuality, as it unfolds, one wishes it were more ordinary—or simpler. In its attempt to be one thing and everything at once—tackling a range of topics from sexuality, race, and class—it ends up being a confused and confusing picture without a strong dramatic pull. Over time, it becomes nothing but a collection of scenes where the actors show they have memorized their lines well.
When the characters end up making speeches, it starts to feel too much like a play. Though the material is originally from the stage, and it might be a very good one, what may work there is not necessarily effective on screen. It requires a completely different energy, flow, and momentum—both in front and behind the camera. Here, though scenes take place in different milieus, the environment is almost negligible.
It should have paid more attention on the human element. What is the main source of Paul's unhappiness? Is it because he attends a distinguished school but not necessarily passionate about what he is learning? Is his girlfriend too overbearing and at times emotionally distant even though she seems to be around all the time? Or is it because he is tired of constantly being ashamed and having to hide his attraction to men?
The last question is most interesting because many scenes—those tinged with the most humor and sadness—revolve around his bisexuality. For example, when Paul decides to hang out with Mécir (Salim Kechiouche), an Arab who works at the school, in public for the first time, his joy is almost infectious. When they kiss, it is a jolt in our stomachs. When Paul chooses to hold hands with Mécir, it feels like personal moment because we finally see him not feeling scared or being embarrassed or needing to put a front in order to impress whomever is watching. Meanwhile, discussions about class, business, and politics are extremely and unbearably dull in comparison—it does not help that the musings fail to go anywhere worthwhile.
"Grande école," directed by Salis and based on a play by Besset, is especially problematic in the second half because it does not seem to know how to resolve its story. Characters end up declaring their feelings to the camera. When I saw tears, I sensed performances rather than a true expression of characters' emotions.