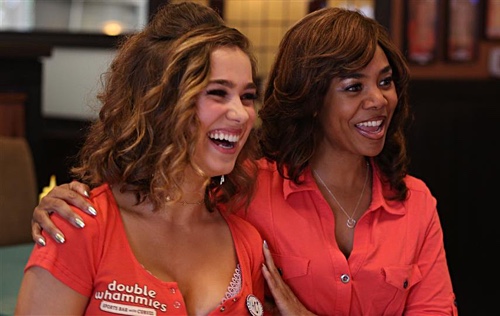 Support the Girls (2018)
★★ / ★★★★
Slice-of-life comedy-drama "Support the Girls" looks great on paper. Although it offers feminist messages regarding family and sisterhood in the workplace, it is adamant in showing the more unpleasant aspects of working in a Hooters-style local restaurant. It is told from the perspective of a black woman, Lisa (Regina Hall), the general manager, who gets no respect from her white, quick-tempered male superior. And yet at the same time respect is what she consistently offers to those who work under her. It is a story of a professional whose job is to turn a negative into a positive in order to keep a business running. And through her example, young women who look up to her would be inspired to do the same should hard times befall them. However, the details of the writing is not as strong as its premise.
I appreciated its unadorned photography. The interiors of the sports bar Double Whammies is familiar. Most of us have been inside one: the matching wooden chairs and tables, the big screen television, random but happy chattering, occasional boisterous laughter, drinks being poured, utensils clattering on plates, swooshing of cars along the highway.
The point is that the place is ordinary, nothing special at first glance. The food may be good, but we, as the audience, have no appreciation for it. Notice there is not one shot of food being served on a plate. We do recognize, however, that this particular place is pretty special for one reason. It is because of Lisa who goes out of her way to make someone's day a little better—not because it is her job but because that is who she is. The lack of decoration in how the picture is shot reflects that of the subject and how she presents herself to everyone else. She is a superhero in ordinary clothing.
Less effective are moments when the picture, for some reason, is compelled to deliver comic moments. Take the car wash sequence as an example. There is already comedy in the women cajoling money from their customers' pockets. They know that wearing tight and short outfits puts them at an advantage. They know, too, that laughing a little harder and bending a couple of extra degrees means getting ten or twenty dollars more. But must they jump onto the hood of the car? Must they place their breasts on the windshield? Sometimes less is more—particularly true in slice-of-life films. These moments of exaggeration belong in a mainstream Judd Apatow project.
Lisa's girls are not fully realized characters. Perhaps one that comes closest in Danyelle (Shayna McHayle) who hates her job (it is in her voice, her body language, how she walks through the door during the beginning of her shift) but loves working with Lisa. Although not one detail of their past is mentioned, we feel their history through their dance of give-and-take. At one point, I caught myself considering the possibility that Lisa and Danyelle did not start off on the right foot. Both women command strong personalities, but somehow they have learned to function on a similar wavelength. But most of the other girls, like Maci (Haley Lu Richardson), are only there to be silly and generate shallow chuckles. There is no dimension to them, let alone subtlety.
As the film draws to a close, it comes across as though it is pushing forward on an empty tank. Gone is the realistic charm of the strong opening twenty minutes, subtler jokes of working in a casual restaurant are nowhere to be found, and the overall energy it exudes is that of confusion. Even moments of silence that should inspire rumination are simply dull, oftentimes just awkward.
Still, credit to writer-director Andrew Bujalski for telling a story with and from a specific perspective. Although the picture does not reach its full potential despite a solid lead performance, I could tell "Support the Girls" is made with joy and passion. That is more than what I can say about other generic workplace comedies where it is all fun and games without the actual pains and moments of shame or embarrassment that compel viewers to look deep and unblinking.