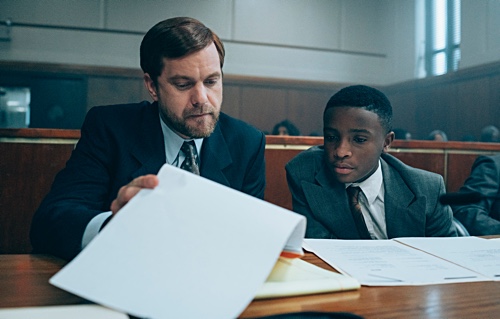 When They See Us (2019)
★★★★ / ★★★★
The four-part mini-series "When They See Us" is the kind of experience that envelops the viewer so entirely, it is impossible to walk away from it without a strong reaction. I walked away from it twice—not because of its running time of almost five hours but because I felt that the emotions it created inside me became so overpowering, I felt it was my responsibility to take a break, process what I had seen thus far, and go back to it once I was clear-headed. I can sit through movies that are eight, ten, or even twelve hours long. But it is rare when I feel compelled to self-evaluate because the work in front me is so overwhelming, so rich with purpose and ideas. It should be seen by everybody, especially by high school students who are learning about racism in America, specifically our flawed justice system and its relationship with black and brown people.
Most would say that the work tells the story of the Central Park Five—boys whose ages ranged between fourteen and sixteen years of age who were convicted of raping a white woman in 1989 even though numerous evidence point to the fact that they were indeed innocent. But I say—and credit to the writers Ava DuVernay, Julian Breece, Robin Swicord, Attica Locke, Michael Starrbury—the series is more than that because the screenplay proves it is able to find ways to tell the boys' individual stories, including that of their families, and then contextualizing their specific personalities, how they think, how they react, through the details of the crime and the repercussions of being a black or brown person who happens to be at the wrong place at the wrong time. But that is not all. The work is confident, too, in showing the biases of cops, detectives, lawyers, judges, and other individuals who are supposed to protect and serve with objectivity. Even the wrong decisions by parents and loved ones are not overlooked.
Most impressive about the work is that although it is angry, every situation is presented in a focused, clear, and elegant way. I admired that no detail is treated as unimportant. No scene is too long. No shot is too awkward as the camera lingers on a face for what feels to be an eternity. Observe closely as the boys are interrogated by the police, for forty-six hours without food, water, or even a restroom break. How the questioning evolves into verbal harassment. How words are turned into physical acts of violence. How being slapped around leads to false confessions. Without the patience and the time to use every beat wisely, the piece could have been just another crime drama where we see actors act and we respond. Not here. I felt that the boys on screen were actually being mistreated; that the barrier between the audience and the screen was not there.
Consider how it employs music to support the story being told. Whether it be hip-hop, blues, rap, or R&B, song choices breathe life into the events. This is noticeable from the very first exchange between two key characters. Special Ed's "I Got It Made" is playing on the background as father and son discuss basketball and the like while eating fast food at home. This is the only time when we will see them truly happy. The contradiction between lyrics and reality perfectly set the tone for what's about to come. The score, too, is used intelligently—during important revelations, not when people are speaking or clashing. A score on top of a dramatic exchange would have cheapened the material, you see.
The work is directed by Ava DuVernay whose enthusiasm for telling this story can be felt in every minute of the project. It is apparent that she is a filmmaker who loves people of color's faces. And through that love—that passion—comes understanding on how to light them, how to frame them, how to push or challenge them. And through that love, too, brings out inspired performances from her actors: Caleel Harris and Jovan Adepo as Antron McCray (young and adult, respectively); Ethan Herisse and Chris Chalk as Yusef Salaam; Asante Blackk and Justin Cunningham as Kevin Richardson; Marquis Rodriguez and Freddy Miyares as Raymond Santana; and, last but certainly not least, Jharrel Jerome as Korey Wise—the boy who decides to accompany his friend to the police station. Each of these performers inject painful authenticity to the role, particularly the young actors who must deliver realism in the face of an impossible situation.
"When They See Us" shows a miscarriage of justice in stages in a most mesmerizing manner. It is a very angry movie. And it should be. Yet I think its message is empowering: Stay awake. Because if physical evidence and scientific evidence—facts—could be denied then, it could very well happen again. Especially in this day and age when "alternative facts" are treated as a thing—by the mainstream media, by some "journalists," by politicians more loyal to their donors than they are to the people who elected them—as if it were all right to tolerate such nonsense. Keep those eyes widen open, especially if you are a person of color, or a minority, in America.