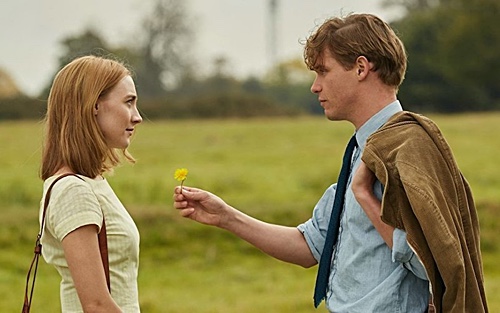 On Chesil Beach (2017)
★★★ / ★★★★
Sometimes love is not enough. I admired the ferocity of this picture because it begins like a generic romantic drama where newlyweds spend their honeymoon on a hotel by the beach. Their backgrounds, when together and apart, are told in flashbacks, carefully calibrated by director Dominic Cooke. A comic moment here and a touching moment there—yet every time we look into the past, he provides just enough detail to keep us wanting to know more. All the while there is a growing suspicion that he isn't telling us everything, especially when close-ups become more dominant as the couple start to consummate their marriage.
The couple is played by Saoirse Ronan and Billy Howle who share an awkward but interesting chemistry—which makes for a fascinating watch. Florence and Edward's moments of warmth are certain to make the audience feel good, but perhaps more powerful, and more intriguing, are instances when they fall into intense arguments, one culminating at the beach which involves a devastating confession and a life-changing decision. In particular, Ronan is at her element here as she is able to change the shape of her face depending on the emotion the scene is about to lay out before us, further proof she is one of the greatest performers of her generation.
But the centerpiece of this slow-moving but most surprising picture is the screenplay by Ian McEwan. He is not interested in creating a boring, picture-perfect couple only to be regarded or envied from afar (or through the screen). Instead, he allows the subjects to be human, flawed, by daring to open up the dialogue toward extremely hurtful situations. They are allowed to be petty, to deliver blows so low that at times we feel ashamed for them. This couple, like real-life couples, is able to use words like daggers and actions like explosives. Because of their sheer chemistry, we wish for them to be together, to work through their problems somehow, to push blame and anger to the side, to start anew. Because the material ultimately makes us feel this way, that is what makes it a romance, not necessary through the lens of the story—or type of story—presented.
Perhaps its weakest portion is the jump in time to 2007. (The story begins in 1962.) Instead of casting age-appropriate actors, it becomes another example of a drama that suffers from ridiculous cosmetics. It is so bizarre when we see heavy makeup on a face (which is unconvincing in the first place) and yet we look down on the actors' hands only to recognize youth. When I noticed this common mistake, I felt angry because I taken out of a film that I found myself to be emotionally invested for the most part. Overlooking details like the hands being flawless, not having a single age-related spot, is such an amateur mistake. Do not get me started on how the ace performers are so buried in cosmetics that they find themselves unable to control their facial expressions. Even the eyes do not look old or experienced.
"On Chesil Beach" is based on the novella by Ian McEwan. It helps that the creator of the original work is also the screenwriter because it feels as though not a thing is filtered upon its translation from text to screen. Especially interesting is the theme regarding ignorance, how at times such ignorance is actually motivated by societal norms of a specific time period, what is expected of a certain sex, of how a married couple ought to live together. There is beauty and searing honesty that I fear might easily be overlooked because the story begins one way. But I trust the more discerning viewers will find something worth pondering over.