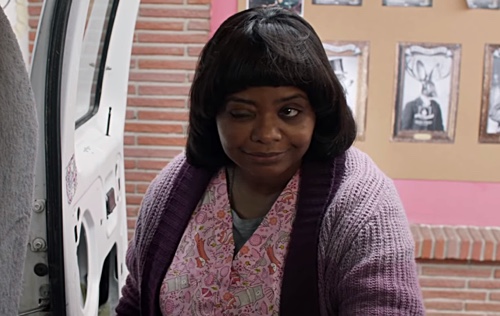 Ma (2019)
★★ / ★★★★
In the middle of the camp-lite psychological thriller "Ma," directed by Tate Taylor and written by Scotty Landes, I wished the focus were on the adult characters instead of the teenagers. The reason is because veteran performers like Octavia Spencer, Juliette Lewis, Luke Evans, Missi Pyle, and Allison Janney can effortlessly elevate a tired plot toward a legitimate good time simply by injecting a fresh line reading, giving out pointed looks, and controlling body movements a certain way. These are qualities that the young cast is lacking. They provide passable performances, but their characters are clearly, and quite simply, lambs lining up for a slaughter.
It is apparent that Spencer is having a good time with her role. As Sue Ann, known by the party-loving teens as Ma because she allows them to lay back and let loose in her basement, she is almost always creepy and quite diabolical when triggered. And yet at times we are provided glimpses of her lonely life at home and how powerless she is at work. When she is humiliated, it is difficult to determine how she will react. Following this woman over the course of one day might have made a curios short film: veterinarian's assistant by day, stalker and deadly killer by night. She is as quick to give a smile as she is at slitting someone's throat with a scalpel.
Flashbacks involving Sue Ann being tormented by her peers in high school are uninspired. It might have been the wiser choice to remove these completely and focus on enhancing the script. Simply referencing traumatic details from the past could have been enough given the caliber of its experienced actors. Notice the power of reunions. For instance, we feel Erica's embarrassment of having to cross paths with a former classmate after it was believed that she moved to California to live a life of success. Erica's sense of failure is written all over Juliette Lewis' face. Her body does not want to be on that casino floor, skimpy clothing and all. Even though she is a mother who is strong and proud to raise her daughter by herself, at that very moment she feels like trash.
Maggie, Erica's daughter, is played by Diana Silvers, the new girl that the popular crowd (McKaley Miller, Corey Fogelmanis, Gianni Paolo, Dante Brown) welcomes into the their group. She has a memorable face, but the screenplay fails to create a memorable heroine. For too long she is shown as a passive observer; she begins to notice strange things at Sue Ann's home and yet she continues to return and party in the basement. When the third act rolls around, we are supposed to care about her fate simply because she is the main girl and nothing else. Never mind the familiar horror tropes of being drugged and waking up to be tormented.
It is rare when solid performances manage to save a generic screenplay. "Ma" is no exception. While entertaining on the surface, I found little value—or excitement—in it. It is one of those movies that you allow to play in the background as you perform chores, check texts, or browse social media while occasionally looking up as decibels begin to rise.