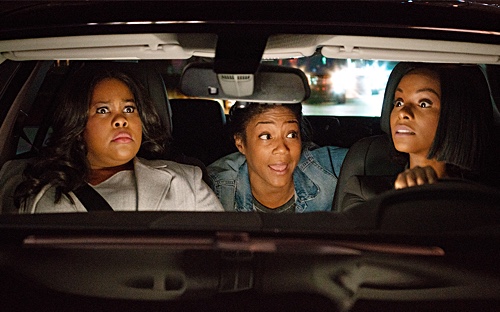 Nobody's Fool (2018)
★ / ★★★★
Having to sit through "Nobody's Fool," written and directed by Tyler Perry, should be considered a form of punishment. For a comedy in general, it is deeply unfunny, lacking comic rhythm, and filled with empty silences simply added to take up time. (This brand of torture lasts for nearly two interminable hours.) For a romantic comedy, there is minimal chemistry between the man and woman with whom we are supposed to want to get together. And for a female empowerment picture, its contradictory messages are not only confusing, they are downright offensive at times. Here is an example of a comedy that is dead on arrival.
I felt embarrassed for the performers who chose to participate in this disaster because they are not without talent, from the highly energetic Tiffany Haddish who plays the motormouth hood sister who has been just released from prison, Whoopi Goldberg as the pothead mother with wise-sounding lines to impart during dire times, to Tika Sumpter as the financially successful sister struggling to find the perfect man. There are individual scenes that showcase the star power of these women, but the poor writing consistently lets them down.
Nearly every scene, for instance, must end with an exclamation point even when it is completely inappropriate. Observe closely as the Sumpter's character, for example, begins to realize late in the picture that perhaps she is to blame for her own impossible expectations when it comes to romance. (She has a list of what a man must offer her in order to be considered boyfriend-worthy.) The moment of self-assessment is almost immediately eradicated by a desperate attempt at comedy. Observant viewers will be quick to catch that the writer-director is not interested, or even remotely curious, of the human condition that his project attempts to tackle.
Instead, Perry proves to excel in regurgitating appallingly familiar scenarios: sisters with opposite personalities having to live together, a romantic interest overhearing a private telephone conversation and feelings getting hurt, one's career being in danger because her love life is in turmoil. It is all so tired. One gets the impression that the filmmaker could not be bothered to create intelligent characters with something real to say, do, or fight for just as long as there are images moving on screen. I found its pessimism to be quite insulting. What results is a limp piece of work that is not even worth showing on cable. Or even on the Lifetime channel. Yes, given that it is a Perry picture, you can bet there are melodramatic turns that are both ludicrous and unearned.
With at least ten films under his belt prior to this movie, Perry should be further along now when it comes to delivering entertainment that works even in the most elementary level. While I appreciate that he casts mostly black actors to tell black stories and thereby selling black entertainment, must he be reminded that his target audience deserves better? I could not help but feel angry while watching "Nobody's Fool" because he treats the audience exactly like one.