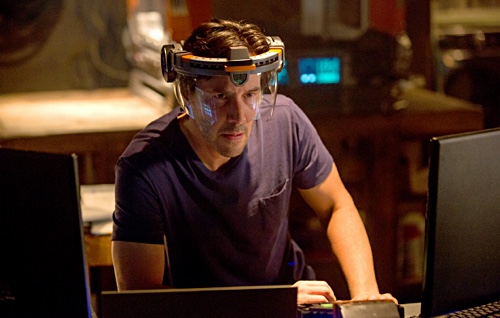 Replicas (2018)
★★ / ★★★★
At least Jeffrey Nachmanoff's "Replicas" cannot be criticized for offering too few ideas. On the contrary, the problem is the opposite: it touches upon so many fascinating subjects—artificial intelligence, human cloning, copying a person's memories onto a chip and then transferring them either into a machine or the human brain, the fragility of consciousness, not to mention the value (or lack thereof) of what we come to know as the soul—that the work has enough content fill a television show's entire season. As expected, it comes with an important cost. In its attempt to cover so much ground, given that the medium is film and, typically, movies are between ninety to one hundred twenty minutes, not one topic is explored in a meaningful way. What results is shallow entertainment that fails to reach its potential.
About halfway through, I caught myself smiling at the ludicrous developments in plot. A part of me admired its bravado. Twists are delivered fast and hard to the point where, within a span of ten minutes (I kept track), it offers at least three surprises. I admired its enthusiasm to give even the wildest soap operas a run for their money. I found solace, too, in the fact that the performances are capable even though the characters are written in the most unbelievable ways at times.
For instance, Will (Keanu Reeves), a scientist who works in a cryptic biomedical company with a beautiful wife (Alice Eve) and three children (Emily Alyn Lind, Emjay Anthony, Aria Lyric Leabu) waiting at home, appears to have years of experience within his chosen field, obviously incredibly smart, but when there is great pressure on him to perform, he seems barely able to handle it like a professional. For the most part, inconsistencies as such are hidden by the relatively fast pacing—although the charade cannot keep up during the picture's more sensitive and dramatic moments. There are a handful of them.
Therein lies the problem: despite the fancy tech talk, curious biological questions, and philosophical musings, the core is supposed to be a convincing human drama. After all, our protagonist is a man so desperate to save his family from death, in addition to his fear of being alone, he proves all too willing to cross numerous ethical and moral lines. Despite Reeves' commitment to the role, the writing does not function on a high enough level. To do so would mean having to provide specificity nearly every step of the way and an expert control of presenting, exploring, and underlining themes. I wondered if a surgical approach to the character might have been a fresher avenue.
As a person who works in science, I do not require, for instance, that the details of human cloning be correct or even believable. Clearly, the work is not meant to be a documentary. But I do expect for the project to connect a scientific tool or technique to a specific character's motivations in a way that is compelling, not just because it would be a neat idea to touch upon but not actually explore. Had the screenplay by Chad St. John been trimmed and focused, the film could have been a more potent and memorable sci-fi thriller.