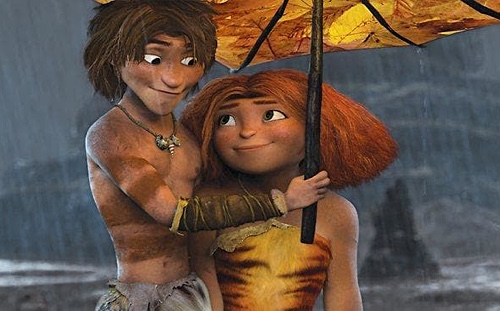 The Croods (2013)
★★★ / ★★★★
The Croods is a family of survivors. As a unit, they have managed to avoid getting trampled on, eaten, poisoned, or falling to their deaths. Having an intact family is a great feat considering what had happened to their previous cavemen neighbors.
However, times are changing. Tectonic plates are on the move yet the patriarch, Grug (voiced by Nicolas Cage), insists that they continue hiding in a cave. After all, staying away from danger has worked in the past. But when Grug's curious daughter, Eep (Emma Stone), meets Guy (Ryan Reynolds), a young man who has advance knowledge, like how to make fire, her new friend just might be the key to prevent their extinction.
"The Croods," directed and based on the screenplay by Kirk De Micco and Chris Sanders, surprised me because although I expected to be entertained, I did not anticipate to be moved. An early scene shows how the family hunts for food through an energetic and beautifully animated chase sequence involving an egg. When such an approach is utilized, something in the back of my brain begins to have a sneaky suspicion that the material starts on a high note because once the dust settles, the screenplay will drag. This is a happy exception.
It has a bona fide sense of humor—appropriate for children, adults, and kid-at-heart. A few of the jokes might sound a bit corny in retrospect but they do not upon delivery. But one of the main reasons why it can be enjoyed on another layer is because we get a sense of what it is like for the Croods to be a family. They do not always get along, especially the father and daughter, because, though some of them may not be aware of it, their life is slowly rotting from the inside out due to a constant fear of getting hurt or something not going exactly as planned.
Grug's motto is "Never not be afraid." One of the best scenes involves Grug being put into a situation where he has no choice but to move forward and take a risk. The writer-directors do a good job just showing us an image of his helplessness. There is no need to use words because we see that he is crippled by a fear he—for the most part—has created for himself. With most animated movies, filmmakers tend to think it is necessary to explain the significance of the scene that just came before. I appreciated that this one avoids that cliché.
As previously mentioned, the animation has a pleasing aesthetic. Because it has so much going on at once, it makes the eyes dance. Admittedly, I have a weakness for strange-looking creatures—animated or otherwise. Most of the creatures found here are not based on actual extinct living things but I enjoyed admiring them nonetheless. One cannot help but notice, for example, the texture of a feline's fur, how a carnivorous flower undulates in a non-threatening manner just before the kill, or the manner by which an animal is at times given human-like emotions or responses through their eyes.
"The Croods" provides an alternative. Instead of being about the importance of friendship or being true to ourselves, it turns its attention on why it is necessary that we take a risk sometimes so that we can get somewhere we want to be—and hopefully one that is worth it. Though it does not delve too deeply within that subject matter, at least it traverses a less traveled avenue.