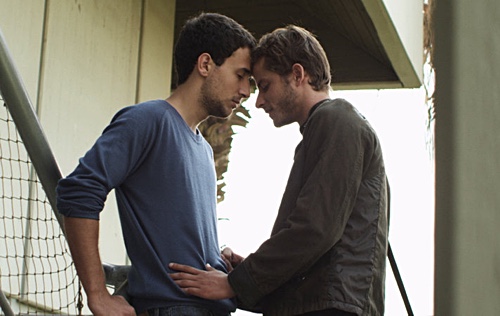 Out in the Dark (2012)
★★★ / ★★★★
Here is an LGBTQ film that aims to tell a story from a specific perspective, not just offering yet another typical love story that hits the expected sweet spots which then paves the way toward a doorway of happily ever after. Instead, it aims to show aching truths and confounding realities of the Israeli-Palestinian conflict and how the deeply-rooted strife affects the every day lives of those who happen to come across love.
Co-writers Yael Shafrir and Michael Mayer, the latter directing the picture, tells the story through a fresh lens and provides voice to a difficult and sensitive subject. In the middle of the story that commands a quiet power, I wondered why we are not provided more stories like this in the west. By putting a face on numerous assumptions and impressions we hear from the news and politicians, perhaps then we would care more about specific conflicts in the Middle East, especially ordinary people who simply wish to get on with their lives. Despite the film's shortcomings, such as moments of melodrama with family members and ill-paced chases, its angle remains exciting until the final image.
Palestinian graduate student Nimr (Nicholas Jacob) and Israeli lawyer Roy (Michael Aloni) share wonderful, immediately believable chemistry. There is seemingly minimal effort in how the performers interact, whether they are sharing drinks at a bar amongst queer friends or the two of them just hanging out in the apartment. It is in how Jacob and Aloni look at one another in the eyes, perfectly capturing that particular manner of regarding someone from moment of chance meeting until a couple of weeks of getting to know each other—like every moment is to be savored, relished, memorized.
This romantic approach provides the audience a strong core, something to hold onto, to root for, as seemingly unstoppable external forces, like being forced out of the closet by the Israeli Secret Service and complications with one's student visa, gather even more power to crush the newly established relationship that we grow to cherish and hope to see grow and evolve. I admired that the picture abstains from providing quick and easy solutions to complex problems; even by the end we are left hanging with a handful of questions. However, we do not feel cheated by its denouement because although problems remain, the tone implies hope.
"Out in the Dark" is uninterested in taking sides or placing blame. Rather, it takes a humanistic approach by creating a portrait of those caught in the crossfire of judgment, threats, and violence. Notice its ability to balance romantic elements with gritty, uncompromising situations often found in suspense-thrillers. These extremes, to my biggest surprise, fit together quite beautifully here. It is exciting to think about the possible stories writer-director Michael Mayer has yet to tell. He's one to watch.