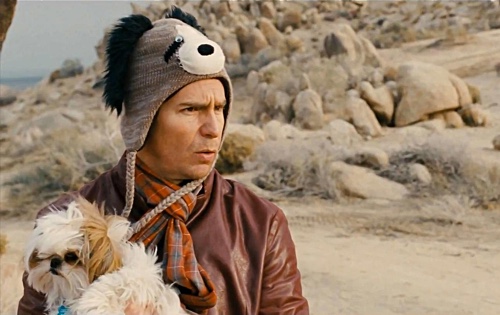 Seven Psychopaths (2012)
★★★★ / ★★★★
Billy (Sam Rockwell) is in the "dog-borrowing" business. He observes from afar, steals the dog, and once a big reward is posted by a desperate owner, Billy's partner, Hans (Christopher Walken), returns the canine. It is a scam that works… until Billy ends up stealing a Shih Tzu owned by an irascible gangster (Woody Harrelson). Charlie is out for blood and will do absolutely anything to get his dog back. Caught in the middle is Marty (Colin Farrell), a screenwriter with a drinking problem. His most recent project is writing a script titled "Seven Psychopaths." The problem: he has nothing else written down except the title. But it seems that the events about to unfold is the perfect panacea for his writer's block.
Written and directed by Martin McDonagh, "Seven Psychopaths" may have borrowed elements from tough guy flicks, stories of unsuspecting writers in need of stimulation suddenly being thrusted into ridiculous adventures, and typical bromances in forgettable comedies, but it puts all of these elements into a blender, loony ingredients are added, and shaken once more to create a rather original material that works for itself despite its occasional distracting self-awareness and criticisms of its own inspirations.
Most enjoyable is the fact that the story is willing to go in many directions. While the main strand involves the kidnapping of the Shih Tzu, what makes the material memorable are the colorful imaginings and retrospectives. Many supporting characters enter and egress but they never feel disposable even though a lot of them are killed. They are consistently given something important to do or funny quip to say so it is thrilling when a new face is introduced. The attention is not in the violence or deaths but in our curiosities of how someone might alter the course of the game.
Its off-beat sense of humor is coupled with good performances. Walken does his usual slithery menace but it works given his character's history. The scene that tickled me most is one that takes place in a hospital where the gangster and the dognapper finally face each other. It is given appropriate beats to solidify the tension. The reward is small compared to the larger surprises later on but it makes a lasting impact. What is a surprise, however, is Farrell deciding to play Marty straight. As the picture goes on, it is increasingly clear that Marty must almost be a blank canvas, somewhat bland with sporadic quirks, in order for us to be absorbed in the more flamboyant personalities.
There are few movies that come out within a span of a year where the audience can feel a filmmaker's love and passion for his or her work. "Seven Psychopaths" is one of them. It is in the dialogue, the images, and silences that separate a flicker from a full-blown flame. The number of things it wishes to address matches the quantity of its twists and turns. Although there are some problems with its pacing as it reaches the climax, I guess one can consider it a part of its own funky groove.