Le dernier des injustes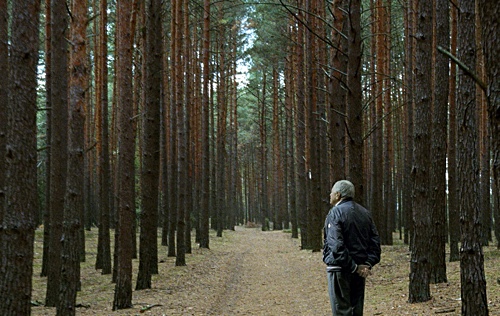 Dernier des injustes, Le (2013)
★★★ / ★★★★
In 1975, director Claude Lanzmann had the chance to interview Benjamin Murmelstein, a rabbi chosen by the Nazis to become one of the Elder of the Jews and lead Theresienstadt, a concentration camp built to house seven thousand soldiers but fifty thousand Jews were sent there to die from various diseases and malnutrition. The place came to be known as a "model ghetto" as the Nazis used it for propaganda—like it was some kind of town ideal for a vacation.
"The Last of the Unjust" offers a wealth of information from a primary source. Hearing from someone who was actually there and survived the horrors is an unreal experience. But the way the material is presented at times is very dry. There are plenty of long takes, from Murmelstein attempting to recollect the events that happened thirty years prior to the interview to long intervals of the camera scanning the place from left to right. It tests the patience but those who stick with it will take away something valuable. Though a necessary viewing, it is not for everyone.
Away from the interview, the camera is utilized in such a way that we are inspired to ponder about the holocaust. We visit various places like a crematorium, a Jewish cemetery in Prague, and what is now known as the Old New Synagogue. It takes its time to look at works of art. We even see areas that were once places of death but are now establishments where people go to drink and dance. The camera is used to place an emphasis in history and our role in preventing something like the holocaust from happening again.
We watch videos of Nazi propaganda. I felt as though I was transported back in time. Observing the dejected faces, I felt disgust and anger that a systematic extermination of human beings could be conceived—let alone be executed. We are then shown, in present time, of the train tracks that lead to Auschwitz. I imagined thousands of people boarding the trains, packed like sardines.
The documentary is most powerful when Lanzmann asks Murmelstein the difficult questions. The subject talks about his important role in embellishing Theresienstadt, the power he had there, and his relationship with Adolf Eichmann, one of the men responsible for organizing the mass deportation of Jews to concentration camps. "Were you acting to save the ghetto or yourself? Do you consider yourself a hero?" These are two questions I also wanted to ask Murmelstein.
After World War II, he was accused of being a collaborator. And for good reasons, I think. Notice the manner in which he speaks and the changes in his body language when delving into the details of his role in the "model ghetto." Was he proud of what he had done? If so, which aspects of his actions? He spoke very confidently, as if he held a very prominent position there. He might have been a leader but certainly the Nazis were always in charge. He discloses enough details—he is an undoubtedly engaging storyteller—and yet we suspect that certain secrets went to the grave with him.