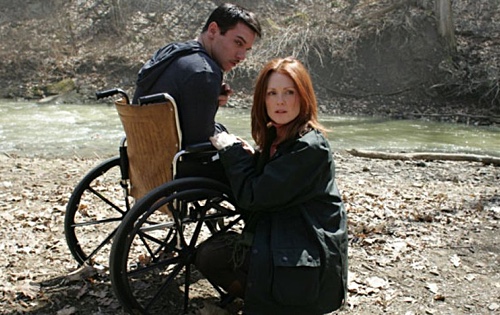 6 Souls (2010)
★ / ★★★★
In the middle of the would-be supernatural horror picture "6 Souls," I couldn't help but feel sorry for Julianne Moore, playing psychiatrist Cara Harding who is presented a bizarre case of what appears to be dissociative identity disorder (DID), because despite her efforts of elevating the material, the screenplay by Michael Cooney falls flat every step of the way. Whether it be discussing ideas within the realm of science, particularly abnormal psychology and behavior, or craft when it comes to scaring the audience witless, the approach is painfully pedestrian, lacking in energy, creativity, or even a modicum of personality.
It suffers from an identity crisis. On the one hand, because our protagonist is a woman of science even though she believes in God, the first third of the film attempts to be somewhat realistic. We spend a lot of time in an interview room where Dr. Harding asks David (Jonathan Rhys Meyers) a range of questions meant to trigger a response. During these scenes we are supposed to gauge how the patient with DID processes information, but the writer forgets that these sequences, too, are an opportunity for us to observe how good Dr. Harding is at her job. Although Moore excels at emoting even the most minute emotions since she is a dramatic performer first and foremost, nothing interesting is revealed about her character until an hour into the picture. Instead, she is reduced to just another career woman who becomes obsessed with cases. Boring.
On the opposite side of the spectrum is Meyers. I did not believe any of the "personalities" that take over. At first I thought it was due to Meyers' limited range of facial expressions. Notice that when a personality of a different gender or vastly different age is in control, he relies on changing his voice without an effective body language to go with it. Eventually, however, it becomes obvious that there is a deeper problem: Because each personality is introduced only on a surface level, the changes that unfold before our eyes are neither interesting nor horrifying. I am convinced the filmmakers are aware of this shortcoming because nearly each time something "scary" occurs, we are pummeled by loud music as if the intent were to beat us into submission. It is an annoyance.
The special and visual effects are third rate at best. The supposed spirit that floats in the air and goes on attacking people looks like it is made using a computer program in the '90s. It looks so grainy, almost unfinished. In order to hide the more laughable textures and other subpar qualities, a lot of shadow is employed. As a result, not only do these scenes look ugly and uninspired, it becomes a struggle to appreciate the images on screen. At least B-movies are proud of what they have to offer. In this film, one that is meant to be taken seriously, the filmmakers appear to be ashamed of what they paid for. If so, then why showcase the effects in the first place? The reason is because it takes more work on a script level to leave something in the viewers' imagination.
"6 Souls," directed by Björn Stein and Måns Mårlind, offers a hollow and depressing experience. There is not one effective scare, let alone one that is memorable or inspired at the very least. The picture can be summed up by its ending: nonsensical, frustrating, lazy, entirely predictable. Perhaps the filmmakers were not convinced themselves that their work is anything more than a straight-to-DVD endeavor. Maybe they just needed to make something—anything—to pay the bills.