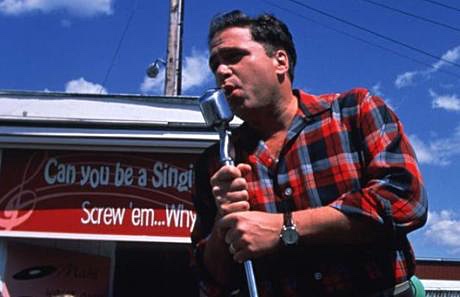 Two Family House (2000)
★★★ / ★★★★
Buddy Visalo (Michael Rispoli) could have been a successful singing sensation. Invited by a popular TV personality to appear on his show during his military service, Buddy chose to refuse the once in a blue moon offer because Estelle (Kathrine Narducci), his wife of eleven years, disapproved.
Buddy's thirst to make something of himself does not wane, however. After several failed business attempts—pizza delivery, house painting, and limo service—Buddy's most recent venture involves buying a dilapidated two-story house and turning the first floor into a bar. But there is a problem: the current tenants on the second floor, drunkard Jim (Kevin Conway) and very pregnant Mary (Kelly Macdonald), would not move out.
Written and directed by Raymond De Felitta, "Two Family House" is a surprisingly funny, delightful, sometimes sad but always engaging peek at a 1950s Italian-American community in Staten Island, New York and how one man repeatedly attempts to break out of the stifling limitations of his culture in order to reach his goal of opening a bar.
Rispoli is magnetic in playing a character who effortlessly oozes so much goodness, watching him made me wish Buddy was my uncle so we could hang out and discuss the things he could do to make his bar stand out from his competitors. Because he is so determined to achieve his dream, brimming with energy as if a switch had been flicked on in his head whenever the bar becomes the topic of conversation, I found myself on his corner even if there are moments when I felt that he is doing someone wrong.
One of the key relationships in the film is the constant headbutting between Buddy and Estelle. It is easy to detest Estelle for several reasons, one of which is her willingness to hide the fact that their savings is on a sudden steep decline as the bar is being built. She figures that if they ran out of money, they would have no choice but to sell the house and they would inevitably move back to her mother's.
I enjoyed that the screenplay does not simply make her out to be the target of our hatred. In small ways, the material communicates to us some of her needs. For example, during the majority of the time she is on screen, she is shown to be constantly around other people. It makes sense that she is the kind of person whose self-esteem relies on friends and family's approval. And that is all right. People like her exist. It does not make them good or bad, just easily susceptible to others' influence at times. She just wants a so-called normal life which, for some people, is a dream in and on itself. This is a fundamental difference between the married couple.
Buddy does not care much about people talking or whispering as long as he is partaking in something that feels right for him. It makes sense that he is eventually drawn to Mary, a pariah for giving birth to a baby who is half black, forming a friendship with her, and perhaps something more. I enjoyed that it is not easy to guess whether Buddy will choose to remain with his wife or start a new life with Mary. Buddy cares about the two women deeply. Is our "right" answer for him parallel to what he considers to be right for himself?
"Two Family House" deals with adult emotions and circumstances with proper dosages of intelligence and heart. I especially admired its mature ending because it shows that decisions are not always as so clear-cut as losing or gaining it all. It is about being at peace with the cards that we choose to have in our hands for one round with hope that the next cards that come our way will change the tide completely.