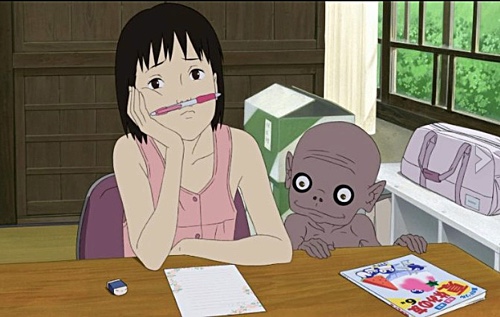 A Letter to Momo (2011)
★★ / ★★★★
Momo (voiced by Amanda Pace) and her mother, Ikuko (Stephanie Sheh), move from Tokyo to Shio Island to try to grasp at a life of normalcy after a tragic death in their family. Momo is not keen on the idea of being an "island girl" but her mother insists that she tries because Shio Island is their new home.
While Ikuko is away, Momo, to her horror, discovers three goblins living in her attic—creatures from Above assigned to protect the mother and daughter for a given amount of time. These goblins (Fred Tatasciore, Dana Snyder, Bob Bergen), however, don't know a thing about what it means to be good guardians and consistently put their stomachs ahead of the girl's safety.
Based on the screenplay and directed by Hiroyuki Okiura, "A Letter to Momo" boasts beautiful hand-drawn animation which is most appropriate because life in Shio Island appears to be simple and down-to-earth. What prevents it from becoming a great movie is its inappropriate insistence on injecting supernatural elements when the story requires that it focus on the personal and emotional challenges the mother and daughter are going through. It gives the impression that the magical elements are purely there to capture the audience's attention while failing to engage fully.
The animation takes its time to show details of a lifestyle in a particular place. I caught myself fascinated with the kinds of faces and body types of people who live on the island. My eyes looked for the kinds of work people do to make a living. Are they smiling, frowning, or indifferent? I evaluated the age groups walking in the streets, the types of clothes they wear, and wondered if they liked living on an island.
Although the film has the kind of score that tugs at the heartstrings, it knows when to employ silence to highlight certain conversations that may sound ordinary to us but are important for the characters. Communication, or lack thereof, between mother and daughter is one of the themes of the material and it is appropriate that the filmmakers know how to control dialogue and music in order to prevent the material from becoming overbearing or forced.
But more than half of the picture involves the three goblins. For the lack of a better description, I found them to be annoying. They need not be cute—they are mythical creatures typically feared, after all—but never do we feel like they care or have grown to care for the shy eleven-year-old who deeply regrets her final words to her father. There are scenes that show her wanting to be comforted by these creatures but they do not connect with human emotions. Some will undoubtedly enjoy this element but it did not work for me.
If these mythical creatures are there to serve a purpose, it is for comic relief. At times I was amused by their blind cravings to eat whatever food is available within the vicinity. They like to steal fruits and vegetables but are also willing to steal baby hogs. Strictly based on comedic effect, Iwa, Kawa, and Mame, are necessary characters. However, the dramatic elements which directly involve them do not work. Since they cannot relate to human emotions, we, too, cannot relate to how they think, act, or feel—at least not completely. The disconnect is staggering at times because the script demands that we come to love them.
"Momo e no tatami" is technically beautiful but there is not much to it in terms of emotions and circumstances that come across completely genuine. I tolerated the goblins' antics but they distract from the core of the film: a girl who has a very difficult time relating with others because she remains in deep regret and mourning.