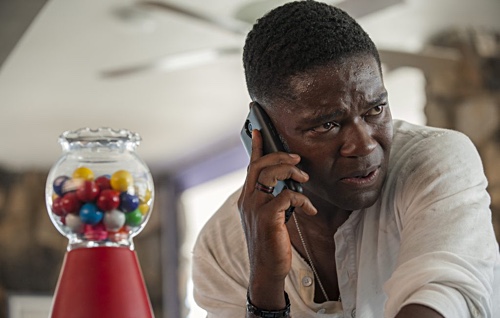 Don't Let Go (2019)
★★ / ★★★★
God answered Detective Jack Radcliff's prayers. Having wished that his family's murder be undone, Jack (David Oyelowo) receives a phone call from his niece, Ashley (Storm Reid), despite the fact that she was one of the three (Brian Tyree Henry, Shinelle Azoroh) who perished in what appeared to be a home invasion. Jack, somehow in active communication with Ashley three days before her death via phone, figures he is given a chance to discover the identity, or identities, of those responsible and put a stop to them. He assumes that should he succeed, Ashley's life, and possibly her family's lives, would be spared.
During the first thirty minutes "Don't Let Go," written and directed by Jacob Aaron Estes, has the makings of an engaging thriller. From the moment it begins there is a foreboding feeling that something will go horribly awry and yet when it is time to face exactly what it is we expect, we cannot help but feel disturbed anyway. Notice the patience in direction and control of the camera as the detective examines his brother's home and the bloody corpses that lay before him. We feel we are in that space, breathing the air of those no longer alive. But despite the horror that transpired in that house, there is no protracted screaming, yelling or crying. The stillness of the camera suggests that the filmmaker wants us to have enough time to imagine what might have occurred. We are placed in the shoes of a detective the moment we enter the murder house.
But the work does not function on a high level on a consistent basis. The tricks, particularly as we are shown what occurs between the past and the present in "real" time, get old eventually. I think the problem, for the most part, is a lack of rules. It is difficult to make a convincing time travel movie, let alone a genuinely entertaining one filled with creativity and enthusiasm. Precise rules must be created, enacted, and followed—which this film proves to have trouble with. For instance, it does not tell or show us how many chances Jack has to get the answer right and solve the murders. Why should we care when Jack has a hundred lives and therefore a hundred chances? If he has only one chance, that is an entirely different scenario. Thus, knowing he could only fail so many times is directly correlated to the plot's tension.
The solution is predictable, not at all a challenge for those well-versed in mysteries. That is one thing. The villain's, or villains', motivation is another. It is so generic that it conflicts—rather than complements—with the plot's rather fantastic premise. Take away the time travel element and what remains is just another wan thriller set in Los Angeles. What makes the picture special then is a gimmick—one executed with mediocrity. And that is a big problem. The third act is mainly composed of especially boring, uninspired trivialities. It is a drag to the finish line.
The heart of the picture is the relationship between Jack and Ashley. Oyelowo and Reid share a warm chemistry that is immediately believable. He encourages her optimism, sense of humor, and artistry. She considers him more as a big brother than an uncle. Having shown us the depth of their connection, we understand why Ashley's death is so heartbreaking for Jack that he would be willing to grab onto a shot at redemption. But the work is a thriller first and foremost. Dramatic elements must be supported by a thorough and well-written screenplay. The twisty turns certainly demand it.