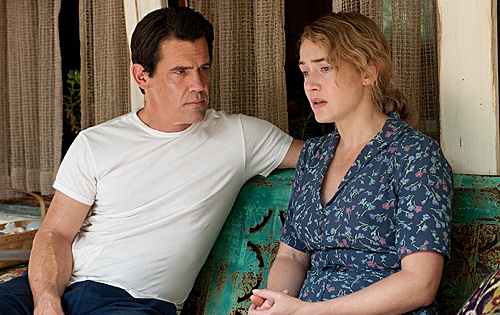 Labor Day (2013)
★★★ / ★★★★
While looking through the comics section, thirteen-year-old Henry (Gattlin Griffith) is approached by a bleeding man and asks for help. The man's name is Frank (Josh Brolin) and he has escaped from the police while at the hospital due to appendicitis. Adele (Kate Winslet), Henry's depressed single mother who rarely goes outside except for the monthly visit to the store, does not want to help the stranger, but her son's safety is at stake. So they take him home. The plan is to have him over only until next morning. But the trains do not run on holiday weekends.
"Labor Day," based on the novel by Joyce Maynard, is not the subtlest small town drama that focuses on a two-person family in an emotional rut. However, it is spearheaded by rock solid performances by Brolin and Winslet and supported by an equally strong acting by Griffith whose character is required to communicate a balance of sadness and strength to come off as a believable short-term support system of his character's depressed mother.
Though censured for its melodramatic tone, the criticism should have been more focused on the fugitive written too nice at times. Although there is a level of danger to Frank during the scene in which he is introduced, once he gets to the house, the threatening element about him disappears too quickly—a problem because Adele and, to a degree, Henry are still wary of the man's intentions. Thus, the character lacks a well-defined arc which renders the flashbacks—glimpses of his younger self (Tom Lipinski) and the circumstances that led to his incarceration—informative but powerless. The most effective dramas are almost always driven by character arcs—this also being a character piece—and so it is somewhat off-putting that the stranger is not given more complexity.
We experience the story unfold through Henry's perspective. We feel the sweetness and tragedy of his relationship with his mother, fears and anxiety of possibly being separated from her, and the hope of possibly having a much-needed father figure in his life. Though they may come off syrupy at times, I still enjoyed the scenes between the boy and the convict on the run. Though they are strangers, their interactions are rich such as when Henry is being taught how to fix a car and how to throw a baseball. Compare these with scenes between Henry and his biological father (Clark Gregg) and we wonder if Henry being around Frank in the long run would be more beneficial for the boy.
The inevitable attraction between a convict and his hostage may sound tacky but it works here. Winslet does a commendable job communicating so much with only her eyes and how slowly she moves. Her character has so much nervous energy and fragility that just about every action she makes while out in public can be a source of concern. We believe that what we have in front of us is a woman who needs a little bit of fire—for her sake and her young son's.
At one point in "Labor Day," based on the screenplay and directed by Jason Reitman, Henry's biological father tells his son that the reason why he left them is because he just wanted to live a "normal" life. In other words, he could not continue living with a depressed person. I wished the picture had more of that searing honesty. The confession did not have to be kind. It did not have to be right. It just needed to be true. Henry looks at his father and for once there is respect there. It dares the viewer not to be moved.