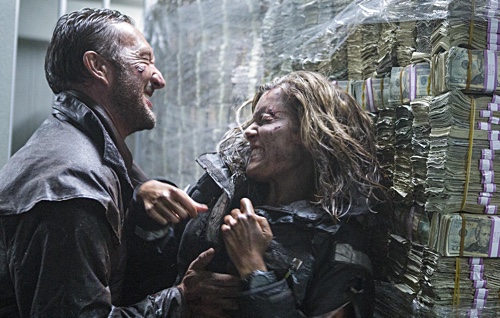 The Hurricane Heist (2018)
★★★ / ★★★★
There's something freeing about action films that commit to an idea so completely that they risk being labeled dumb, nonsensical, pointless, or all of the above. "The Hurricane Heist," directed by Rob Cohen, is one of those movies. It presents a simple premise and everything around it is cheesy popcorn—and might say mindless—entertainment. One must be in the right mood and mindset to appreciate this kind of movie because an argument can be made it is a one-note joke throughout.
The plot revolves around bad guys who wish to steal six hundred million dollars from the U.S. Treasury as a massive hurricane rages on outside. Not only does the natural disaster serve as a distraction, should the government become aware of what they are up to, sending soldiers to the facility would not be an easy task. The "old money" is meant to be shredded anyway so it is only logical, at least to the bandits, that they take and make use of the cash. Naturally, there are already rogue agents inside the facility. All would have gone according to plan if it weren't for the pesky Special Agent Casey Corbyn (Maggie Grace); the exposition reminds us several times that she always does the right thing. She is smart, cautious, and resourceful. The thieves' ringleader, Perkins (Ralph Ineson), has a habit of underestimating her, and the allies she acquires along the way, despite his team members dropping off like flies.
You know a movie doesn't care about how it comes across as long as it knows it is providing entertainment when the actors who are supposed to underline the heart of the picture play their American characters—brothers from American south (Toby Kebbell, Ryan Kwanten)—with variants of Australian and English accents. (The brothers, one who runs a repair business and the other a weatherman, lost their father in 1992 as Category 5 Hurricane Andrew ripped through the south.) While initially distracting and amusing, particularly when the brothers reconnect after from what it seems to be several years of not seeing each other in person, eventually we forget about how they pronounce certain words. The action pieces get so big and so busy that words no longer matter.
And here comes the physics-defying stunts. For example, there is an amazing black, tank-like, Batmobile-looking rig (à la "Batman Begins") that has these drills underneath that could pierce through the surface of the road. Doing so would tether the vehicle in place. Should it get hit with an amazing amount of force, it would be able to withstand it with minimal wear and tear. Its passengers would feel shaken for a few seconds but suffer no broken bones. Not even bruises, it seems, because they are able to run around with ease and get thrown about (more stunts!) in every imaginable way. It is a wonderful ad to a fictitious vehicle. Truly, they have fun with the idea.
And then there is the hurricane. It makes the movie "Twister" (underrated) look like a documentary. While the monstrous mix of wind, rain, thunderstorms, and occasional livestock does not look particularly first-rate, it is so exaggerated to the point where it looks genuinely threatening. Seeing bad guys getting sucked into its vortex is pretty fun. (The screaming remains audible despite the barrage of sounds.) And then there is science-talk about the eye of the hurricane and its edges. I don't think it is possible for a cyclone to go around 600 miles per hour in the first place. And yet some buildings remain intact, more or less. Clearly, the movie is meant to be unbelievable. I cannot deny I had a good time.