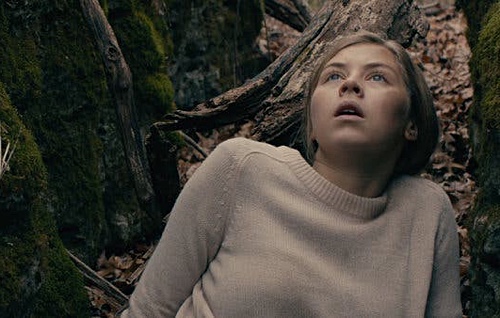 Rust Creek (2018)
★★ / ★★★★
The backwoods suspense-thriller "Rust Creek," written by Julie Lipson and directed by Jen McGowan, is clearly inspired by noir pictures of early Coen Brothers, but the overall experience is less than satisfying due to its tonal shifts, particularly in the middle of the picture when our heroine, Sawyer (Hermione Corfield), is rescued by a man named Lowell (Jay Paulson) whose job is to cook meth for the very same people that Sawyer is running away from. While the relationship between Sawyer and Lowell is intriguing and the actors manage to sell how their characters regard one another over time, there is not enough excitement in the main narrative surrounding two rednecks (Micah Hauptman, Daniel R. Hill) whose goal is to kill the college girl who escaped from their initial assault.
Sawyer is a believable character who is strong and tough without the material constantly dangling these elements in front of the audience. I think it helps that Corfield chooses to internalize nearly everything that happens to Sawyer instead of going for the more overt emotions—like screaming, shouting, and crying—in order to earn our sympathy. I felt as though she trusts the writing and direction to punch through the expected chases and left turns that come with the genre. And yet, when necessary, there is a softness to Sawyer. Her surprising connection to an unexpected ally, Lowell, is fresh: I cannot remember a hillbilly in another thriller who is actually smart and shown to have deep thoughts.
Less interesting are the cops in charge of investigating the missing woman. Sheriff O'Doyle (Sean O'Bryan) appears to be extremely sharp when introduced but progressively gets dumber as the film goes on. Deputy Katz (Jeremy Glazer), a wide-eyed rookie with enthusiasm to spare, too, is promising initially. I believe the reason why they get less interesting over time is the plot requires them to not know as much as the audience in order to delay the action. Because if they were as knowledgeable as us, the movie would have been over thirty minutes earlier. I wished the no-nonsense Commander Slattery (John Marshall Jones) took over the case completely because his presence is so strong, he is not required to say a word to command the room.
The extended chase scenes are realistic, horrific, and beautiful. Overhead shots of injured Sawyer really capture the fact that our protagonist does not have a chance in those woods. By showing the massiveness of what's around her, she looks so small and insignificant. She may scream and cry out for help but there is no one there to listen except the birds. Time is also against her since she is bleeding out. And because she is disabled, even climbing a small hill, for instance, becomes a challenge. Notice McGowan's control of the camera as she forces us to view the action through Sawyer's perspective. When she is down on the ground, the camera is limited to a certain height or angle, especially if there is no hope of achieving a certain goal.
Clearly, thought and effort are present in "Rust Creek" and that is why I am giving the film a marginal recommendation. However, it would have been a far more potent survival thriller had the noir elements been sharpened. When tension cuts like a scalpel, you know you are sitting through a first-rate thriller.