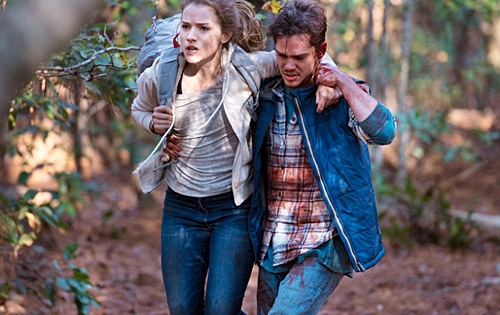 Blood Money (2017)
★ / ★★★★
There are not enough plot twists in Lucky McKee's "Blood Money" to justify having to endure extremely irritating characters who come across four bags full of money, each containing two million dollars, while hiking in the wilderness. In the middle of it, I found myself rooting for the white collar villain, an embezzler, a man named Miller played with cool by John Cusack, because then the movie would have been over. Despite a running time of less than ninety minutes, the material is so generic, it feels closer to two hours.
Attempts at character development inspire epic eye rolls. Notice how it tells rather than shows. Three college friends—Victor (Ellar Coltrane), Lynn (Willa Fitzgerald), and Jeff (Jacob Artist)—sit around a campfire spewing expository dialogue that details their histories, current thoughts, and hopes for the future. None of the dialogue rings true; it is so superficial—like one feeling jealous that his former girlfriend is now with the other guy—that the whole charade feels like a teen soap opera. It does not help that not one of the performers is particularly compelling to watch or listen to. The awful dialogue is worsened by the constant, interminable whining. If I were around that campfire, I would have called it an early night by pretending to be unwell because staying would actually make me feel unwell. It is unbelievable that the trio have convinced themselves to remain friends with one another. Every one of them is vile. Maybe that is their commonality, their sick bond.
The manner in which the sound is put together is most irritating. Of particular struggle is when actors speak their lines while standing next to a river. Dialogue is barely audible. It is worsened by the fact that the score is almost always present during these exchanges. So no matter how passionate or angry a person becomes during an increasingly complex task of towing four heavy bags full of cash across a forest, the experience—their suffering, our catharsis—is muffled. At one point I wondered if it was the director's intention to make a bad movie because some mistakes are so elementary. It is like reading an essay plagued with spelling errors.
Chase scenes are standard and edited haphazardly. It does not even bother to stop once in a while to show us the beauty or danger of the setting. It feels like amateur hour when at times you feel as though could take any old camera and capture more effective shots of predator attempting to catch its prey. Cue close-ups of performers not looking remotely tired, let alone breaking a sweat, for supposedly sprinting about half a mile. Time and again the picture fails to establish elements that make up a convincing survival thriller.
"Blood Money" is a near complete waste of time, but there is one fresh quirk about it. Miller does not wish to kill those who stumbled upon his money. He asks for them to simply hand the bags over. It is the students' greed, one of them in particular, that allows an awkward situation to snowball. There is minimal entertainment to be had here despite the numerous unintentional humor. We should be laughing at their stupidity, but we are reminded time and again that the filmmakers do not even bother to make a passable movie.