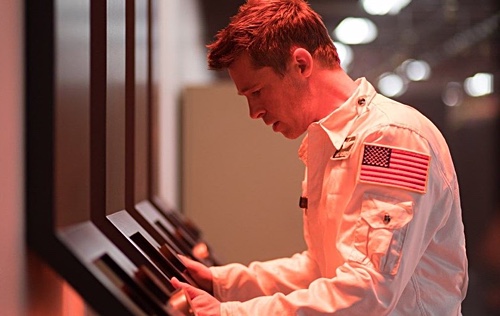 Ad Astra (2019)
★★ / ★★★★
During the first hour of James Gray's "Ad Astra," the picture has the makings of a space epic so engaging, it does not need to show a single flying car to inspire the audience to keep paying attention. Advanced technologies are simply there to be used rather than to be gawked at and so we are forced to adapt—quickly—in the story's universe. By making futuristic images barely visible and putting the protagonist's inner turmoil front and center, it is without question that the work will be a ruminative sci-fi film instead of action-adventure oriented. However, once the second hour crawls along, the slow, calculated, informative pacing is no longer utilized to build mystery or raise questions—about ourselves, our connections with others, our place on our planet and in the universe—scenes simply drag. The absence of a meaningful payoff is maddening.
We follow Roy McBride (Brad Pitt), son of renowned astronaut Clifford McBride (Tommy Lee Jones), when he is assigned to travel to Mars to send a communiqué to his father, once believed to have perished on assignment while leading a project in Neptune. By hearing his own son's voice perhaps the old man would finally respond to SpaceCom's messages: for senior McBride to put a stop to electrical surges that plague the rest of the solar system. You see, his ship contains anti-matter that works as a catalyst to these fatal surges.
The irony is that despite Roy and Clifford sharing the same bloodline, the two are not at all close. (Yes, outer space is employed as a symbol of how distant the father and son are emotionally—neither new nor fresh.) Pitt is highly watchable as a man who has not found a way to deal with his father's brazen abandonment. I looked closely at Roy and recognized a person who built himself to be something that his father would be proud of… but he is not his own person. This lack of self permeates through his personal life, specifically when it comes his relationship with his wife (Liv Tyler—outrageously underused). It is without question that Roy's father loved his job—finding proof of extraterrestrial life—more than his own son. And so Roy must come to terms with this reality. The story is not about a space mission. It is about finding a way to live and not simply exist based on somebody else's expectations.
Although this universal message can appeal to most viewers, I'm afraid it will be lost in translation because the second half does not possess enough energy and vitality in order to underline its humanistic themes. Instead, the movie is plagued with prolonged takes of Roy moving from one place to other or Roy sitting at one spot looking hopelessly morose. (On occasion a well-placed and well-timed tear rolls down Roy'd right eye just in case we don't get the picture of his struggles.) It leaves the viewers cold. Notice that even moments of thrill—shoot-outs on the moon's surface, confronting a wild animal in an enclosed space—end up with a whimper.
These images can work. But there must be something behind them—consistently—in order for us to feel and appreciate their value. Otherwise these pretty images function merely as decoration; we might as well be staring at a screensaver for two hours.
Written by James Gray and Ethan Gross, "Ad Astra" does not hold a candle against movies from which it is inspired by, whether it be thematically or visually—Stanley Kubrick's "2001: A Space Odyssey" and Andrei Tarkovsky's "Solaris" are most obvious. A key difference: "Odyssey" and "Solaris" consistently build—or break down—their worlds and the characters within them up until their curious, perplexing, unforgettable climaxes. Here, there is mostly hollowness and soulful staring into the void.