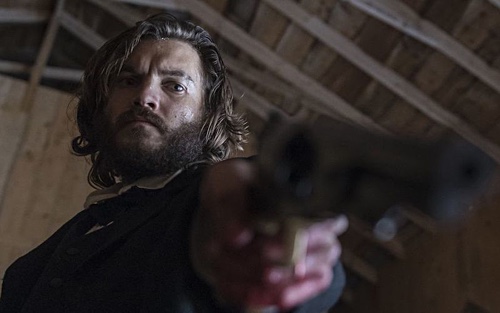 Never Grow Old (2019)
★★ / ★★★★
The thing about westerns is that many are revenge stories in their core. And so it is often a challenge to tell a story in a fresh way when ruffians (Josh Cusack, Sam Louwyck, Camille Pistone) arrive in a frontier town and decide to stay indefinitely. It is apparent about a quarter of the way through that "Never Grow Old," written and directed by Ivan Kavanagh, lacks both originality and vision; at one point I wondered why the filmmaker felt this particular story needed to be told. Because if the viewer had seen at least five western pictures, it would be easy to determine its ultimate destination. Does it truly require eighty minutes to get there?
An argument can be made that it is not about the destination but the journey. However, the journey is not interesting either. Emile Hirsch plays Patrick Tate, Garlow's carpenter and undertaker. He lives just outside of town with his pregnant wife (Déborah François) and two young children (Quinn Topper Marcus, Molly McCann). Soon Patrick meets Dutch (Cusack) in the dead of night, the latter having knocked on the former's door, asking for directions regarding a man with a bounty on his head. It is made clear that Patrick cannot refuse—not only this favor but also future ones. Hirsch plays Patrick with a constant air of desperation. Despite the inconsistent Irish accent, he is able to meet Cusack's calm intensity.
But the screenplay fails to do anything interesting with these two forces who must clash—morally and physically. It goes on autopilot as bodies pile up when Dutch decides to open a business—a whorehouse that serves alcohol, considered to be a mighty sin by the devout Christians (led by Preacher Pike portrayed by Danny Webb) of Garlow. Violence is paraded on screen—men being shot, a young girl getting raped by an old man, blood mixing with mud, a hanging, among others—and yet there is only minimal drama. The reason is because we do not care about these disposable characters. Most intrigue is generated when Patrick and Dutch are in a room simply exchanging words.
Patrick's occupation involves building objects and putting corpses in the ground. There is poetry in lending a hand on creation and destruction yet the writer-director does not take advantage of it. Instead, Patrick is consistently shown reacting to situations—merely a tool in a plot so ridden with clichés—until the protagonist is no longer an enigma. Meanwhile, Dutch disappears for long periods in the middle of the film. He appears from time to time to do or say something would-be philosophical. I grew tired of the charade that the material forces upon us.
I enjoyed the look of the picture, particularly when it employs natural light. Scenes shot at night are appropriately dark and menacing. There is a convincing quiet in the darkness, like anything could step out from it. Not even lamps or torches could allay the danger. When the film is not so plot-driven but rather driven by feeling, one cannot help but wonder whether the work might have been better off as a sensory experience: strip away the heavy-handed plot and let the emotions flow, place us directly in a mindset of having to survive in an 1849 frontier town.