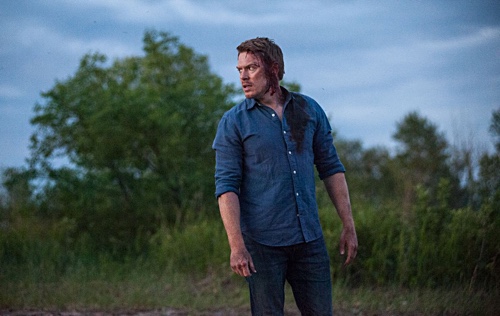 Radius (2017)
★★★★ / ★★★★
A man wakes up next to an overturned vehicle, head bloody, with no memory of who he is. It is dark, raining, and it appears no one is around given the accident occurred in a rural area. Later he comes to learn his name is Liam (Diego Klattenhoff) and whenever a living creature, human or animal, gets within a certain distance of him, it drops dead. This is the curious premise of "Radius," written and directed by Caroline Labrèche and Steeve Léonard, a captivating sci-fi mystery-thriller that poses many questions and takes the time to answer every single one of them. Do not miss it.
The story brings to mind Stephen King novels, not because of the genre but its ability to grab those looking in by the throat and never lets go. The curiosity surrounding Liam and his strange unwanted ability is dealt with patience, creativity, urgency, and even a sense of humor. The screenwriters understand that the terrifying situation must have moments of exhalation and so the material is peppered with amusing moments without the tension ever decreasing. Most Hollywood thrillers with big budget, recognizable stars, and experienced writers do not possess this wisdom. Here, it is exercised with confidence, nearly every scene modulated with a clear purpose and feeling.
It bothers to detail specifics such as the maximum distance between Liam and the living in order for the latter to remain alive, what is said in the media when groups of corpses are discovered in a diner, and how the main character attempts to wriggle himself out of tricky situations. Although there is a central mystery that commands high level of intrigue, notice there is constant world building. And so when Liam inevitably comes face-to-face with cops and bystanders, we have a clear understanding of what is at stake for everyone involved. We believe in the reality of the conflict and there is convincing drama in every beat.
The equation is constantly changed and so the viewers are always challenged. There is not a slow or boring moment here. For instance, eventually a woman named Jane (Charlotte Sullivan) and she, too, suffers from amnesia. She claims that she woke up in the scene of Liam's accident. However, when Liam woke up, we do not see anyone nearby during the opening sequence. It inspires the audience to ask questions and to reevaluate what we see, hear, and process. In order words, it inspires us to become active participants in the story. It is not simply a question of what you may do when a similar situation happens to you. The questions are more specific, layered, painted with moral quandaries. It is so refreshing because too many modern films cater to passive viewers.
"Radius" is one of those rare pictures with high concepts and energetic execution that never runs out of steam. Metaphors—never ostentatious—should inspire conversations. And the ending feels exactly right—it is given to us at right moment. Fans of old school "Twilight Zone" are likely to have a great time with this gem, filled to the brim with surprises big and small.