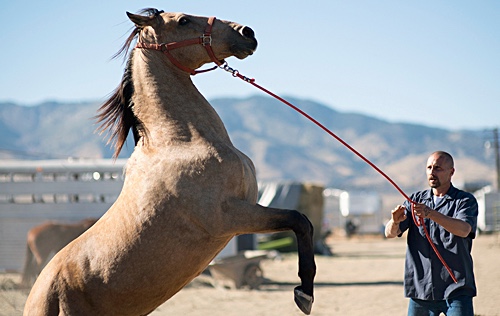 The Mustang (2019)
★★★ / ★★★★
Laure de Clermont-Tonnerre's elegant and affecting "The Mustang" tells the story of an inmate on his twelfth year in prison who joins a rehabilitation program wherein participants must train wild horses for twelve weeks. The mustangs will then be auctioned off to various government agencies and the proceeds go to the preservation of the horses that roam free. Viewers looking for a poignant and intimate character study should look no further. The picture is quiet, but the emotions it stirs create a memorable experience.
Equine lovers will appreciate the photography. Scenes shot outdoors often drenched in natural light, it is clear that the director has great respect for these creatures as he underlines their effortless beauty, whether they are at peace in their natural habitat or as they grow nervous and angry inside cramped cages. We are given time to observe these creatures simply taking up space, eating, galloping about. There is no hurry to further the plot. Words between horse and trainer need not always be expressed. Sometimes a hand gesture or a raising of arms is enough to show the relationship between the two.
We learn a few things about the work required to train a horse. I wondered how I would fare given I am not always patient. Neither is the main character, Roman, wonderfully played by Matthias Schoenaerts, who has a habit of turning angry and violent when things do not go his way. There is a horrifying scene early on when his horse refuses to listen to his directions. He gets so enraged that he begins to attack the innocent animal as if it were punching bag. This is not a straight story about a horse and its trainer. Nor is it a story that leads to Roman being released before the credits. This picture is about the journey toward rehabilitation, not freedom.
Schoenaerts delivers further proof that he is one of the most effective but underrated performers working today. He tends to embody his roles so completely that at times he becomes unrecognizable. This role is no exception. His approach to the character is domination. His fearsome sense of being makes you want to look away at times. Myles (Bruce Dern), a rancher who leads the Wild Horse Inmate Program, advises Roman not to make eye contact with the wild mustang during his first time training it. The same can be applied to Roman. To look him in the eye is, at the very least, an act of inviting a kind of mental disruption—ironic because this is a man who wishes to be seen as more than a violent thug who turned his wife into a vegetable.
Particularly moving are the exchanges between Roman and his pregnant daughter. Martha (Gideon Adlon) wishes to be emancipated from her father so she could sell the house and provide for her child. There is deep anger—and regret—between these two. Co-writers Brock Norman Brock and Mona Fastvold are smart in limiting their dialogue. So much more is communicated in the unsaid. But not once do we feel that genuine reconnection is hopeless—highly unlikely but not impossible. I imagined being in Martha's shoes, having to care for her mother for years after her father was sent to prison. I don't think it would be easy for me to forgive either, if at all.
"The Mustang" offers an ineffective subplot surrounding the smuggling of horse tranquilizers. Roman shares a cell with Dan (Josh Stewart); the latter threatens the former that if he failed to provide ketamine, his daughter would be harmed. The work would have been leaner had this awkward appendage been removed altogether. Still, however, the rest of the work is so strong, an enthusiastic recommendation is well-deserved.