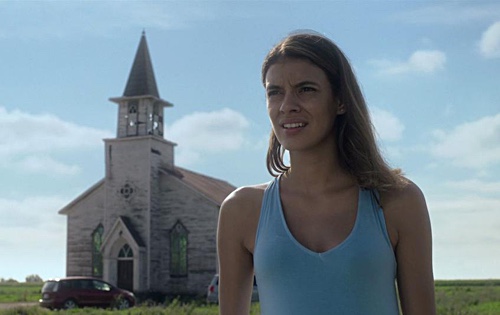 In the Tall Grass (2019)
★ / ★★★★
Cal, where are you? …Becky?! …CAL?? …I'M HERE, BECKY! …WHERE ARE YOU??? …OVER HERE! …WHERE??? If watching and listening to people get lost in a field for over half the film is your idea of entertainment, then "In the Tall Grass," based on the novella by Stephen King and written for the screen by Vincenzo Natali (who also directs), receives a most enthusiastic recommendation. But should you demand more from a horror film with a curious concept surrounding a piece of land with supernatural powers then stay far away. Spearheaded by an undercooked and misguided screenplay, there is no reason for this movie to be over thirty minutes, let alone a hundred minutes. It is an experience to be endured.
The best horror stories that just so happen to possess science fiction elements tend to have one thing in common: the rules are so watertight that although we are aware of them, we are entertained when they are broken or if they happen to come with crucial footnotes. By providing the audience a set of rules, there is an unwritten contract between the film and the audience. We are tasked to participate. We know, or think we know, what we are in for and so there is a higher chance for us to believe in the universe the filmmakers put forth.
This soulless, brainless, lazy film, on the other hand, is not concerned whether the audience has understanding of the rules. Its approach is to muddle the playing field so often and so brazenly that we find ourselves blindsided by the would-be brilliant twists. I found not one of them to be compelling; in fact, when examined using the picture's own logic, these fail to make sense.
The opening scene shows siblings Becky (Laysla De Oliviera) and Cal (Avery Whitted) driving to San Diego. Becky is very pregnant and nauseous and so Cal pulls over next to a field facing a church. They hear a boy's voice (Will Buie Jr.) from the tall grass, begging for help since he is unable to find the way toward the road. It sounds as if he's been there for hours. Becky and Cal decide to lend a hand, but they, too, find themselves in the same predicament once they are among the grass. They get separated. It seems impossible for them to find one another because the source of their voices does not remain in one spot—even when they are standing still. They become convinced something is terribly wrong. Day turns into night and the supposedly horrific happenings continue. We grow tired of this formula even before the second act begins.
Eventually, we learn there is a mysterious stone in the middle of the field. A father (Patrick Wilson) who also got separated from his family claims that it is ancient, perhaps already there even before the earliest Ice Age. He has touched the stone and is stimulated every time he makes physical contact with it. There are carvings on the stone, but notice that the camera provides only a millisecond glimpse of them. You see, the images hint at what might happen later on should our subjects continue to make terrible mistakes regarding their situation. These carvings are only shown fully once the characters are at their lowest points. This choice, and others like it, stands out to me because it reeks of the filmmakers' lack of confidence in the material. Or worse:
It is assumed that the audience are idiots, or that we have never seen a horror movie where curious figures actually prove to be important. The correct choice is to show the carvings front and center outright. Once we are equipped with this knowledge, tension is generated almost immediately because we wish for the characters to avoid what appears to be their fates. The lack of common sense from behind the camera is astounding. I found no willingness to embrace creativity from a storytelling point of view. In fact, the work feels like a bad TV movie.
But this isn't to suggest the material is not without potential. There are hints surrounding the protective brother, Cal, possibly loving his sister, Becky, as more than a sister. It is not unimportant that the mysterious field just so happens to be situated in front of a church (according to the sign its entire name is "The Church of the Black Rock of the Redeemer"). Those who get lured in the field, with the exception of the boy, possess qualities that could be considered sinful. However, not one of these ideas is explored in a meaningful way. The movie would rather show visual effects of grass moving on their own, the sky turning blood red, corpses in various states of decay—CGI of the poorest quality.