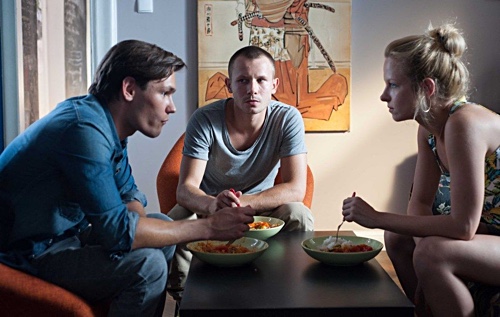 Floating Skyscrapers (2013)
★ / ★★★★
Kuba (Mateusz Banasiuk), training as a swimmer for a decade and a half, meets Michal (Bartosz Gelner) outside a gallery and two share a joint. There is certainly a romantic connection there but it just so happens that Kuba has a girlfriend, Sylwia (Marta Nieradkiewicz), and they are living together. Eventually, Sylwia catches on what might be going on between the two men but she cares for Kuba too much to let go so easily.
"Floating Skyscrapers," directed by Tomasz Woszczynski, is so lacking in energy that it never gets a real chance to become an interesting drama. There are plenty of shots of geometric figures, people sitting around saying nothing and naked bodies in bed, but the emotion the picture manages to capture is monotone, bordering on soporific. It is an LGBTQ dramatic film that fails to appeal to anybody outside of the community.
The three lead performers are physically attractive but there is nothing particularly poignant about their characters. The central plot revolves around the two men wanting to be together while everyone else disapproves. There is a hint of social commentary about the Polish culture's current attitude toward homosexuality but it is not expounded upon in a rich and rewarding manner. The subplot is typical and expected: Kuba and Michal coming out to their families and we observe how the parents respond. The same subplot have been done in similar pictures and much more effectively.
There is only one scene that is executed just right. It involves Kuba, Sylvia, and Michal sharing a meal. Each of them knows exactly what is going on with whom but not one bothers to bring up the source of each of their frustrations. We have all been in a situation like this. It is awkward and uncomfortable—the scene perfectly captures Sylwia's seething animosity, Michael's embarrassment, and Kuba's disbelief that his two lovers are in the same room and breathing the same air.
The ending is a severe miscalculation which underlines the weakness of Tomasz Woszczynski and Tomasz Wasilewski's screenplay. For all the three characters' misery, they—and the audience—deserves an answer as to what might happen among them. Instead, the movie simply ends just when it is becoming interesting for having presented game changers that might alter the rest of the principal characters' lives.
"Plynace wiezowce" need not be colorful or even vibrant to be worthy of our time. However, it is expected, as in any other movie, that themes be ironed out without having to revert to old-fashioned treatment of gays and lesbians on film. The writers should have strived to make the characters fresh to the point where we are curious about them despite the love triangle. This is neither a modern nor a forward-thinking film.