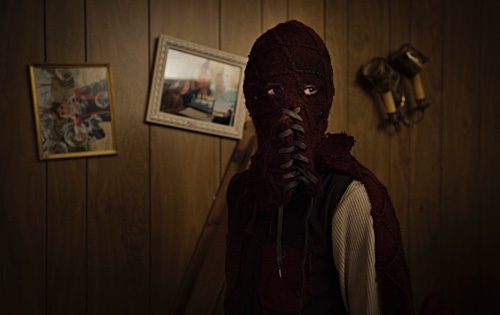 Brightburn (2019)
★★ / ★★★★
The question of what might have happened had Superman grown up evil instead of good is not at all new, but "Brightburn," written for the screen by Brian Gunn and Mark Gunn, had the opportunity to burst the door open for the superhero horror sub-genre with an exclamation point. Instead, the picture is, for the most part, dramatically inert, choosing shock over suspense, violence instead of creeping terror. I felt the actors—every single one clearly capable of so much more than what the reductive screenplay offers—longing for deeper, more challenging material. Over time, I grew disinterested in its lifeless parade of villainous young Clark Kent.
Top-tier superhero films command a sense of wonder. It does not matter whether one's power is innate, transferred, or achieved through creativity, technology, and hard work, superhero movies that successfully capture viewers' imagination treat as though the powers in their respective stories are new, wonderful, potentially scary and dangerous, eye-opening.
In this project, notice, for instance, there is a flatness in tone and mood as twelve-year-old Brandon Breyer (Jackson A. Dunn) discovers his super-strength and indestructibility. He need not be overtly thrilled given his laid back personality, but a more intelligent screenplay would have found ways to communicate his delight, alarm, or confusion—perhaps a mix of all three—for being a special freak. Brandon, after all, despite his extraterrestrial origin, is raised by human parents (Elizabeth Banks, David Denman) and so, naturally, he must respond in human ways. Otherwise, we fail to relate to his muted reactions.
Conflicts surrounding Brandon lack depth. At school, he is made fun for being too smart, too quiet, too different. The script does not bother to introduce any of Brandon's peers (or teachers) in a meaningful way, whether the supporter character becomes a friend or foe. Without the requisite context surrounding Brandon's challenges outside his home, the individuals he interacts with simply exist as as sheep lining up for the slaughter. It is without question that the writers are not interested in the interactions between social and abnormal psychology within the conditions of a superhero flick. Scenes at school should be highly informative given there is no other pre-teen Brandon can socialize with at the Breyer farm.
Like forgettable horror movies, it appears as though "Brightburn" is more interested in how to make violence and mangled body parts appear beautiful or realistic. Sure, pulling a sharp object from one's eyeball, for instance, makes the audience wince but that is all there is to it once the scene is over. Slasher elements do not work here because little effort is spent on the chase or tease. There is minimal patience from behind the camera; it moves so quickly and so often as if self-conscious that viewers would notice less-than-perfect images. It does not help either that the score is relentless in signaling audiences how to feel. Clearly, it does not understand the difference between an evanescent jump scare and horror that lingers.