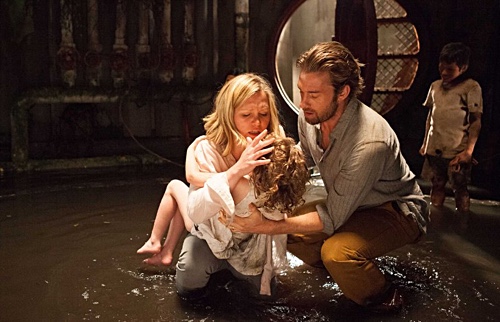 Out of the Dark (2014)
★★★ / ★★★★
Although the number of scares is on the low side, "Out of the Dark," directed by Lluís Quílez, is a horror film that works because there is consistent tension-building, it actually uses its Colombian setting rather than keeping it in the background, and there is intrigue within its core mystery involving a family from London moving into a spacious but haunted home. This is a work for audiences who enjoy storytelling that just so happens to have horror elements in it. It has more in common with movies released fifty to forty years ago than it does with today's run-of-the-mill parade of empty jump scares.
The house is another character in that over time we become familiar with its layout. So when a character, expectedly, goes off to investigate a strange noise coming from inside the walls, when an object comes rolling down the stairs, when the power goes out due to the storm, these scenes are almost always effective. Because we know each turn, what each room offers, and other seemingly unimportant details like the color of the staircase, the relative size of the backyard, the texture of curtains dancing as violent winds enter the house, we feel we have become a part of this home. The place is lived in, it doesn't look like a studio. We recognize when something is out of place.
Julia Stiles and Scott Speedman play parents of a Hannah (Pixie Davies), a little girl who begins to exhibit symptoms of a disease. While Sarah and Paul are not entirely believable as parents who have gone through a lot together prior to the events within the scope of the film, Styles and Speedman share believable chemistry as parents who would do anything to find answers. For me, the best scenes involve Sarah and Paul going their separate ways to investigate and finding different aspects of the same answer. A number of American movies, mainstream and independent, attempt to do this sometimes but they are often less successful. I think the Colombian setting contributes to the intrigue of the mystery.
Significantly less effective is its CGI-ridden finale. The quality of these computer graphic imageries is not exactly first-rate and points should not be given for being proud of it regardless. But more importantly, such an exhibition of visual effects does not fit the smallness and intimate nature of the story. Sometimes restraint is the wiser choice.
"Out of the Dark" is beautifully shot by cinematographer Isaac Villa. As someone who grew up in a country with a number of similarities with Colombia, its climate, and its people, I appreciated how it shows outdoor markets, how people make a living in the streets, where people live, the obvious divide between the privileged and the less privileged. There is more to appreciate here than what goes on during the hauntings.