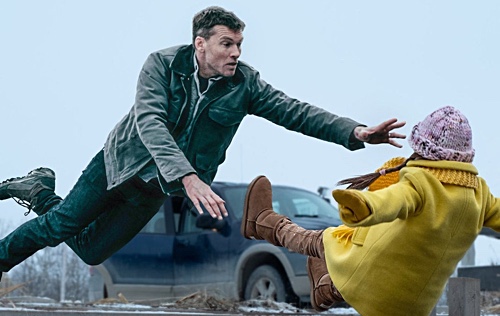 Fractured (2019)
★★ / ★★★★
Is there something deeply sinister going on in the country hospital or is the man who claims that his wife and daughter had been kidnapped by the hospital staff simply exhibiting psychosis? Brad Anderson's "Fractured" offers a familiar premise and is almost immediately elevated by a sympathetic lead performance. But with an ending so uninspired, maddening, and predictable, one is left to wonder whether the journey is worth it by the time end credits appear.
The picture's strongest quality is its patient build-up. As it lays down the foundation of Ray's relationship with his wife and young daughter, we empathize with the man who feels that his family is slipping away. He is desperate to keep things together since a prior loss of a loved one continues to haunt him. Ray, played with convincing vulnerability and desperation by Sam Worthington, is a former alcoholic. We meet him having an argument with Joanne (Lily Rabe) in the car while on their way back home from Thanksgiving celebration. Worthington and Rabe share solid chemistry as a married couple on the verge of divorce. Words are used like daggers but the moments of silence, too, are just as sharp. The opening scene, rooted in drama, hints at a better than average thriller.
From the way scenes are shot, especially once the family of three set foot at the questionable hospital, viewers are jolted into paying attention. Notice the fond use of close-ups. Nearly every hospital staff encountered is a source of suspicion, from clerks at the front desk who must deal with patients who are tired of waiting, security personnel who walk down the halls with pride, to doctors who come across little too friendly. The camera is used as a magnifying glass to reveal possible secrets. Are they all in on it? Only a few of them? Is there something going on in the first place? Nearly each face is memorable and so there is a good possibility we will meet them again under a more confrontational context. No one enjoys being accused as a liar.
The work introduces the possibility that Ray might be an unreliable protagonist. This is when the film falters because it falls into the usual trappings of fast cuts, hallucinatory and discombobulated imagery, and irksome sound effects. There is an elegant way to create a character we are supposed to distrust without using cheap and tired tricks from terrible movies.
It requires, for instance, an astute screenplay so in love with dialogue and of the human condition that it becomes a challenge to discern among truth, lies, and half-truths. For a movie in which the lead character is deathly afraid to lose his family, reductive dialogue becomes more prevalent the deeper we get into the story. More interested in delivering immediate sensations, it might have elevated the work had a more cerebral approach been chosen from time to time. In thrillers, tricks must be changed once in a while or else their effects may likely suffer from diminishing returns—as they do here.
The ending did not work for me at all—nor so I think would it work for anybody who possesses more than three brain cells. I got the impression that screenwriter Alan B. McElroy wishes so badly to deliver a twist or haunting ending that it does not matter whether it actually fits the story being told. Due to the nature of the denouement, no catharsis that feels exactly right is provided. The payoff is unsatisfying. We feel cheated of our time.