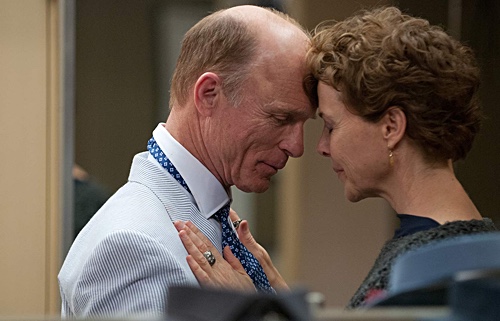 The Face of Love (2013)
★★★ / ★★★★
Since her husband (Ed Harris) has passed five years ago, Nikki (Annette Bening) has been unable to move on from his death. She gives away his clothes. She hides his photographs. She avoids places that hold significance for them.
They frequently visited the Los Angeles County Museum of Art. She finds it to be particularly difficult to be around this place, but one day the widow feels compelled to go inside. She regards the artworks with fascination and solemnity—but it isn't the same. She turns around and there she spots a perfect replica of her late husband. She later comes to know him as Tom (also played by Harris) and, like the late husband, he is passionate about art.
"The Face of Love," written by Matthew McDuffie and Arie Posin, is a hard sell. The story involving a person's double and playing it with a straight face? Isn't that within the realm science fiction and fantasy? But that is exactly what I admired about it: Instead of executing the plot with tinges of silliness, it is brave enough to dare to suspend us in disbelief nearly throughout. We know that Tom will learn about Nikki's late husband eventually and that he looks exactly like him. That is not the interesting part. It is in how he responds to the knowledge he is provided that tells us everything about his character.
In movies with similar premise, it is too easy to categorize the protagonist. He or she must either be crippled by grief or the person is likely to be suffering from a mental illness. Not here. Bening makes an excellent decision to embody both categories but she avoids her character from being defined by them. She makes a lot of fresh choices. Notice how Nikki is like when indoors. Compare her body language to when she is out in the open. It is two different performances. The unhurried pacing allows us to appreciate the subtleties in her performance.
We feel the love between both characters. Only understanding what Nikki feels toward her late husband's double would have been severely erroneous. It would have made the character less compelling. Certainly, an irrational obsession would have been the point as opposed to an imperfect but believable relationship. It just so happens that there is a big elephant in the room and to acknowledge it might just ruin everything.
Robin Williams plays Roger, Nikki's neighbor and with whom he hopes of eventually sharing a romantic connection. Roger is underwritten, functioning more like annoyance rather than a genuinely sad man who also lost someone who is dear to him. Their commonality is loss, but the screenplay fails to hone in on that trait in meaningful ways. Instead, they are given a few conversations that outwardly refer to their dead spouses. Surely there must have been a less obvious way to explore that angle.
Directed by Arie Posin, "The Face of Love" will likely surprise those who choose to have an open mind. Going into it, I looked forward to Bening and Harris' performances most. They do deliver and share wonderful chemistry, but I was surprised that their characters' situation resonated with me. The final scene is superlative.