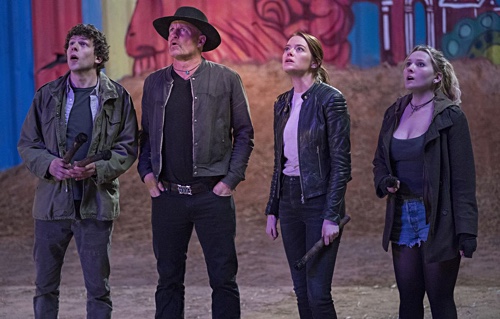 Zombieland: Double Tap (2019)
★ / ★★★★
If your idea of entertainment is unadulterated boredom then Ruben Fleischer's "Zombieland: Double Tap" is a winner: a lazy, low energy, soporific sequel to a predecessor that embodies none of these qualities. It is astounding that although there is a ten-year gap between the original and the follow-up, the ideas served here are tired and maddeningly cliché, rotten, the actors hamming it up to create a semblance of a good movie. I felt embarrassed for their efforts; they are character actors stuck in a third-rate material. It is clear that the picture has no reason to exist other than to make money. To say it is a waste of ninety minutes is an understatement.
The introductory scene shows some promise. Colombus (Jesse Eisenberg), via narration, acknowledges that since we last spent time with them a decade ago, zombies have specialized and a few have evolved. Each type is given a specific name based on the undead's characteristics, particularly the manner in which it hunts. But this potentially fresh idea is dropped almost immediately and picked up only when convenient—when it is desperate for an action scene. Instead, we are bogged down with lame dialogue—most of them expository—about the importance of sticking together, of family, of home being where your loved ones are. Dave Callaham, Rhett Reese, and Paul Wernick's screenplay appears to be confused when it comes to their target audience. Did they mean to impress those with IQ lower than 70?
Every time the material attempts to explore family dynamics among Colombus, Tallahassee (Woody Harrelson), Wichita (Emma Stone), and Little Rock (Abigail Breslin), it is a challenge to prevent closing one's eyes because none of the connections ring true. For example, the father-daughter relationship between Tallahassee and Little Rock is forced and awkward on two fronts: there is no chemistry between Harrelson and Breslin—the latter at times coming across like she doesn't even want to be in the film while the former, almost recognizing the lack of enthusiasm from his co-star, recompenses for their shortcoming as a unit by exaggerating an already hyperbolic character—and the screenplay never provides a warm, touching, or curious moment between the two characters prior to their relationship being challenged.
Another example is Columbus and Wichita's would-be romantic connection: it is dry and purely circumstantial. Like Harrelson and Breslin, Eisenberg and Stone lack chemistry—this time the romantic variety. I suppose the idea of opposites attract is meant to be humorous, but what they share is consistently one-dimensional. Wichita is always the straight man, Columbus the bumbling bungler. The writing fails to let the audience see—or discover—what Wichita sees in Columbus, vice-versa. It is without question that interpretations of these characters are detached from the previous film. And so the whole thing comes across as a charade.
Even zombie attacks are nothing special: the undead appear and they are shot either in the distance or pointblank. Observe how these sequences are edited like a music video. The reason is because fast cuts and other flashy, in-your-face techniques are meant to establish a veil of energetic razzle-dazzle when, in reality, unfolding before us is just another shoot 'em up. Substitute zombies with bad guys in suits and nothing is changed on the fundamental level. I felt especially insulted when a character would yell out zombie types ("Homer," "Hawking," "Ninja"—introduced during the opening scene) when one is encountered instead of allowing us to discover ourselves which version is in front of us. It zaps away the already minimal tension.
"Zombieland: Double Tap" is not made for smart people. It is made for the undead audience, those who prefer to have everything spoon-fed or explained for them. There is no excitement, no suspense, no thrills, not even one good scare. I did not feel as though the filmmakers felt confident or passionate about their material. If they did, they would have put more effort in elevating the dialogue, making sure that the relationships ring true, ensuring that the action is creative or surprising. If the bar is this low for the series, I hope it stays dead. It is an insult to everyone involved.