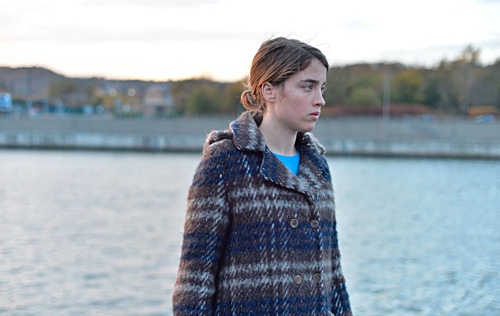 The Unknown Girl (2017)
★★★★ / ★★★★
Jean-Pierre and Luc Dardenne craft yet another beautiful portrait of ordinary people who just happen to find themselves in a moral quandary and then must deal with the aftermath of their action or inaction. A deeply humanistic picture that does not ask for anyone's judgment or sympathy, "The Unknown Girl" urges attentive and intelligent viewers to question what we would have or might have done had we been thrusted in a similar situation. It only asks that we be honest with ourselves. Therein lies its quiet power.
This time around, the focus is on a young physician (Adèle Haenel) who chooses not to answer the door because she and her intern (Olivier Bonnaud) have been in the clinic an hour past closing time. The next day brings tragic news of a dead girl whose body is found at a construction site right across the street. The clinic's video recording reveals that the doorbell was actually a cry for a help. Clearly distraught and desperate, it appears the girl without a name was being chased.
The material is interested in exploring who Jenny is as a doctor, on and off the clock. It is interesting that Haenel plays the character with a rather stolid surface most of the time, even telling her trainee that in order for him to become a good physician he must always keep his emotions in check. But behavior says paragraphs about a person and the Dardenne brothers observe without appraisal, not even a hint of a score or soundtrack. We hear every footstep, each uncomfortable shuffling, the deafening silence in a room when a person struggles to keep a secret.
Notice the way Jenny looks at her patients, how she injects needles into her patients' skins, how she touches and moves their limbs as she attempts to examine what might be going wrong in their bodies. Then notice how her patients regard her when they are being cared for, as Jenny supports them up and down the stairs after a consultation, how they say goodbye to one another at the entrance. Unemotional on the surface, observant viewers will detect that Jenny is a physician who cares deeply for the lives around her. Calls from patients are always urgent. Laboratory results are relayed right away.
A movie like this will hardly appeal to the masses, especially those hoping to be entertained by stunning visual effects and loud, busy action. However, works like "La fille inconnue" have a better chance of standing the test of time because just as choices and emotions are raw, repercussions are dire and unflinching. Great dramas build suspense out of reality and we watch spellbound as the protagonist interacts with people who may know a lot more than they let on initially. The material is unafraid to show complex people just as they are, how ugly and beautiful we can be to one another; it allows us to consider being more aware, more present, of our surroundings and how we interact with it.