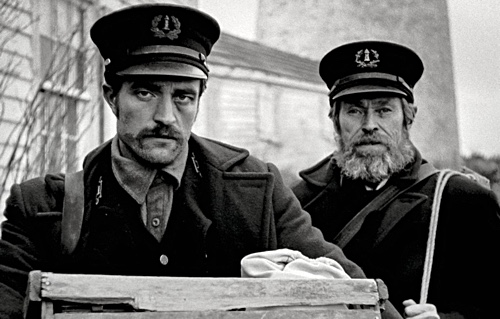 The Lighthouse (2019)
★★ / ★★★★
Psychological horror picture "The Lighthouse" is a step back for director Robert Eggers. In "The Witch," he is able to take a period story, set in 1630s New England, and construct a deeply unsettling tale around that time and place. It peers unblinkingly into a dark folklore and we buy every second of it. It is told with clarity, relentless energy, and with a period dialogue so uncompromising at times that it risks frustrating most viewers. In his follow-up, however, co-writing with Max Eggers, although the story takes place on an island in 1890s New England, photography in black-and-white, it feels just like any other modern twisty tale of a man's madness unspooling in an isolated, lonely location. I received little enjoyment from it.
It cannot be denied that Willem Dafoe's performance is entertaining. As Wake, the ill-tempered supervisor of Winslow (Robert Pattinson) who is prone to believing superstitions of the sea, he is extremely watchable when the camera places him front and center, recalling experiences he claims to have had and how he manages to tie them—no matter how tenuous—to the current predicaments that he and Winslow find themselves in. Although Pattinson attempts to match the veteran's effortless magnetism—and there are a few moments when Pattinson is effective—he pales by comparison.
Histrionics, particularly toward the end when secrets have been spilled and blood has been spattered, are unconvincing and forced; I felt awkward during instances when the performer would go off-script because he is so into the moment. Particularly challenging when it comes to period films is that every second must feel and sound believable. I felt certain reactions to dire situations needed to be edited, cut short, or reshot altogether. Modern acting in period movies, unless this concept is meant to be the point, is most distracting. When it comes to Pattinson, who has been terrific in risk-taking roles prior to this ("The Rover," "Good Time," "High Life"), I felt I was watching an actor acting rather than being.
The relationship between the two men of vastly different ages and even bigger differences when it comes to how to approach the job they are tasked is meant to be rocky, a constant source of conflict. There are a handful of amusing moments when Wake would unfairly remind Winslow of his lower rank just because the old man can, but especially when Winslow broaches the subject of never getting to see the lamp of the lighthouse. Wake appears to be obsessed of being alone with that lamp. Why? Dafoe's wicked performance suggests there might be a sexual component to it. One night, due to nagging curiosity, Winslow walks to the top of the lighthouse and sees his partner, lying naked, in the same room as giant, octopus-like tentacles. The movie gets more bizarre from there.
One of the Wake's odd superstitions is it is bad luck to kill a seagull since each bird contains a soul of a sailor who had died. This idea ties nicely to the final shot of the film, but it commands little power or irony because the storytelling, for the most part, is muddled, composed solely of one peculiar happening after another: a mermaid encounter by the rocks, getting dead drunk and experiencing nightmares, hallucinations born out of guilt, and the like. The formula gets repetitive and exhausting after a while.
Although some thought is put behind these images, I was reminded too often of other generic psychological horror pictures in which an untrustworthy protagonist grows even more unhinged as the story moves forward. Remove the black-and-white photography in addition to the silent film aspect ratio of 1.9 to 1 and there is nothing special about "The Lighthouse." Not once did I feel scared, or surprised, or thrilled by any of the plot developments. I found shots of ocean water crashing against the rocks during a storm to be far more hypnotic than the wild goings-on.