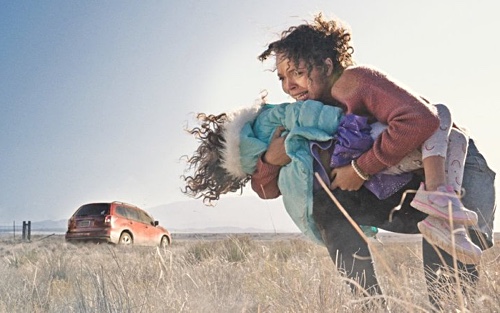 Rattlesnake (2019)
★ / ★★★★
With a premise that brings Stephen King stories to mind, it is a disappointment that "Rattlesnake," written and directed by Zak Hilditch, fails to take off after the first act. Instead, we are subjected to repetitive sequences of a character running about all over a Texan town with one goal in mind but few inspired ideas on how to reach it. Because we find ourselves smarter than the protagonist, following her is a chore and a bore. The picture might have benefited from a major rewrite—not of its premise but of the details that make up the story.
A flat tire on a desert highway forces Katrina (Carmen Ejogo) to pull over and deal with the matter. Her daughter, Clara (Apollonia Pratt), explores from a few feet away but eventually finds herself bitten by a rattlesnake. Panic-stricken and desperate to save her daughter's life, Katrina spots a nearby trailer, sprints toward it with Clara in tow, and enters. A woman (Debrianna Mansini)—preternaturally calm—agrees to help. She claims that payment for her service will be discussed at a later time, but for now Katrina must fix the flat tire so when her daughter regains consciousness, she could be taken immediately to the nearest hospital.
While at the hospital, the girl in recovery, the mother gets a visitor. The man in the suit (Bruce Davis) claims that for the soul that was saved, Katrina must offer the same in return: She must murder another person. She has seven hours—until sunset—to pay the debt in full. Should she fail, Clara's soul would be reclaimed.
The first twenty minutes command a high level of urgency. It buries the audience neck-deep with all sorts of information, questions, and assumptions. Most interesting is the magical element in the picture; it is unsettling that the faces we come to meet—those who are aware of what Katrina must do—are those who have passed on. We see their faces on missing persons ads and on online articles citing violent deaths. On the surface, Ejogo looks convincing as a desperate mother who is willing to do whatever it takes to save her daughter. It is in her eyes.
Less impressive, however, is how the character is written. Ejogo could deliver the most layered acting, but if the screenplay remains flat, the performer's effort would amount to nothing. In the attempt to show Katrina as a good person, there are far too many moments that depict her hesitancy and guilt. They drag on and on—to the point by which the momentum of the movie is significantly impaired. In the middle of it, I wondered why the writer-director is so desperate for viewers to like the character, to see her as good. It isn't necessary. What matters is that we understand the plight of the character, what she must do to save her daughter. I would rather have an interesting protagonist who is willing to partake in questionable things than a likable, boring one. Katrina is example of the latter and there is no excuse for it.
For a race against time story, there is an astonishing lack of urgency. Notice instances of Katrina measuring up her potential victims. She considers older folks, children, women who come across physically weak by comparison to her. This comes across rather… amusing instead of chilling. The reason is because, at this point, we do not know how she thinks. Because she is written to be so safe and so nice, it is difficult to imagine the extent of her dark thoughts—or if she is even capable of having such ideations. And so what we see during these moments is simply behavior. There is no tension, no believability to the whole charade.
"Rattlesnake" bites but it lacks potent venom. Not enough is done with the black magic angle of the story whether it be a constant, forceful, mysterious element never to be explained nor as a possible facet of the plot that must be explored thoroughly. Instead, it is used merely as a tool to propel the plot forward and brought up whenever convenient. I was annoyed by the screenplay's fondness for easy solutions and so the work is never fascinating, just barely good enough to pass the time. I hold a higher standard than that.