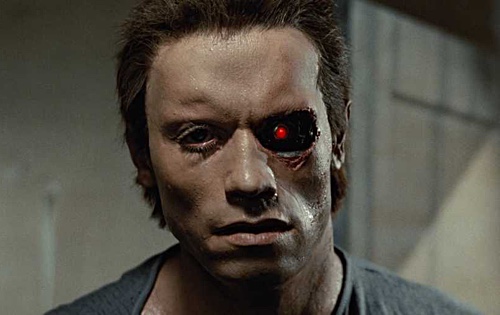 The Terminator (1984)
★★★★ / ★★★★
James Cameron's "The Terminator" is known for its muscular action sequences and the pitch-perfect casting of Arnold Schwarzenegger as a cyborg sent from post-apocalyptic 2029 to 1984 to kill Sarah Connor (Linda Hamilton), mother of John Connor, the man who will lead the resistance against the machines, but let us not overlook that the screenplay is so precise and efficient, it makes modern sci-fi action pictures look saggy, lackadaisical, weak. Here is a movie that offers an experience: it can be entertaining, funny, pulse-pounding, and horrifying at a drop of a hat. It is miraculous that despite the disparate elements that must be juggled, the story's forward momentum continues to build until the climax. It works from top to bottom.
Right from the opening minutes it is without question that plenty of thought is put into the images on screen. The arrival of two figures from the future—a machine and a human—run in parallel. The former is sinewy, tall, without an identifying emotion his face. The latter, on the other hand, is built but scrawny by comparison, his face plagued by confusion, uncertainty, agitation, perhaps even fear. Similarity lies in their nakedness. But a difference: the machine must blend into its new environment while the man, too, must do the same… on top of avoiding shame for having to go on without them. Another similarity: their mission is find Sarah Connor. The difference: the machine is programmed to kill her, but the man feels the need to protect her. There is minimal dialogue, but our eyes are transfixed on the screen.
The lack of words or critical dialogue goes on for minutes as the director racks up the tension. Even when we meet Sarah, as words are exchanged among colleagues and friends, there is nothing important to be said or expressed. These are played for chuckles or laughs. Instead, we pay attention to what is being reported on television. Because the work shows that the background elements can be important in this story, we are trained to pay attention to every small detail. In other words, the work tasks us to participate. And because we are engaged, it must be established early on that the heroine be intelligent. It is a mistake for this character to be dumb when we meet her only to get smarter later on. Screenwriters James Cameron and Gale Anne Hurd anticipate this pitfall and so they find ways to be two steps ahead of expectations.
There is excellence in easily overlooked moments. For instance, when our protagonist gets on her bike and looks both ways before driving off, there is great tension to be felt. The funny thing is that she is not aware she is being hunted… yet. But we already have this knowledge. To Sarah, to look both ways is the sensible, ordinary thing to do. But to us, it is a life or death situation: a figure approaching from a distance in either direction could mean that the cyborg programmed to kill has found her and she could be dead in seconds. These moments of pause, of inhalation, elevate the action film toward a more visceral territory. It cannot be denied there are horror elements in the work outside of the relentless, highly physical, seemingly unstoppable villain.
Here we are at the end of the review and I have not even detailed the high caliber action scenes. And I don't feel the need to because they must be experienced to be appreciated fully. But notice the sound design: immediate, forceful, sharp; they tend to jolt the viewers into paying attention that much more. Yet at times the approach is minimalistic: the pulsating score is enough to hasten our heartbeats.
There is certainly a few dated special and visual effects (the CGI cyborg in its rawest, metallic form running from the background toward the foreground quickly comes to mind) and obvious cosmetics (Schwarzenegger donning a most unconvincing, chuckle-worthy mask since technology that allowed seamless blending of two faces—man and machine—was not yet available). But I consider these to be negligible technical shortcomings because the rest of the work functions on a high level. There are two or three lines of mawkish dialogue, but this is overcome by daring to turn the story's core into a love story.