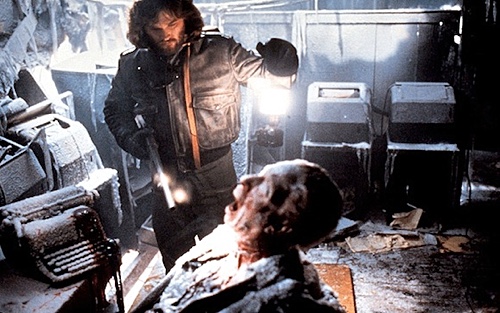 The Thing (1982)
★★★★ / ★★★★
John Carpenter's "The Thing," based on the novella "Who Goes There?" by John W. Campbell, does not waste any time inspiring viewers to ask questions: Why is a man aboard a Norwegian helicopter intent on shooting a sled dog dead? Why does it appear as though the canine understands precisely what it is that's going on amidst the utter confusion, following prior shooter's death, in the American research station? What happened exactly at the Norwegian research base before being burned to the ground? What is its connection to the charred remains of grotesque corpses that resemble a fusion among man, animal, and beast?
The picture works as a high-level science fiction and horror hybrid because it tickles our deepest curiosities. Questions are brought up and answers are provided—at times almost immediately. But then some answers pave the way to new questions, and some of them do not have easy answers. The men at the American research facility must face a parasitic extraterrestrial life form that infiltrates another organism, assimilates with its host's cells, and then imitates the host's body. There is some evidence that the so-called Thing is able to retain the host's memories: it knows how to perform daily tasks, to converse, and to recall details of events it has no way of knowing prior to infiltration. But the screenplay by Bill Lancaster is astute enough to refrain from answering this mystery directly because it is far scarier to have an understanding or appreciation but without knowing for sure.
There is a dozen men in the facility, and each one is given a spotlight. We learn about their jobs as people of science in addition to those who support these scientists to get the job done and to keep the facilities running smoothly. Some of their personalities may clash, but there is a sense of community among them. We believe that they have known each other for months, possibly years, in the way they have learned to tolerate one another's eccentricities. Now is the time for their bonds, as strong or as tenuous as they are, to be tested in most unimaginable ways. Can you shoot a colleague or friend in face pointblank? How about with a flamethrower? Do you have it in you to cut someone else's guide rope and leave him out in the Antarctic snowstorm?
The helicopter pilot, R.J. MacReady (Kurt Russell), serves as our central protagonist not because he is smartest or strongest but because he is able to keep his cool, and therefore think clearly, during the most intense situations. Notice how the other men are written: already ill-tempered even before first alien reveal, trigger-happy, excessively nervous or anxious, overly suspicious, gutless. Their personalities and quirks are in total contrast against MacReady's.
And on the occasional moments when MacReady does lose control out of sheer terror, his reactions are played for laughs occasionally. The decision to provide comic relief, as evanescent as they are, is correct because tension generated reaches unbearable levels at times. There is a memorable scene, for instance, when men—suspected of being infected—are tied up and right next to them is a colleague, actually infected by the Thing, undergoing horrifying convulsions, tiny tentacles protruding from his face and body. There is the confined room… and then there is being tied up in that confined room with the boogeyman.
The star of "The Thing" is Rob Bottin's unforgettable creature and special effects. It feels like the macabre images have been ripped right out from our nightmares: giant mouths with teeth that could chomp through a grown man's wrists with ease, spider legs coming out of a decapitated head and then crawling about, dogs' melted faces and bodies fusing into one big, bloody lump with long tentacles coming out of it and whipping about, bodies breathing in amniotic sacs… Blood and guts are generously thrown about, but notice they come in different colors and textures, too. Transformation from man to Thing is observed unblinkingly. It is without question that the filmmakers are willing to do whatever is necessary for us not to look away, mouths agape in gleeful horror.