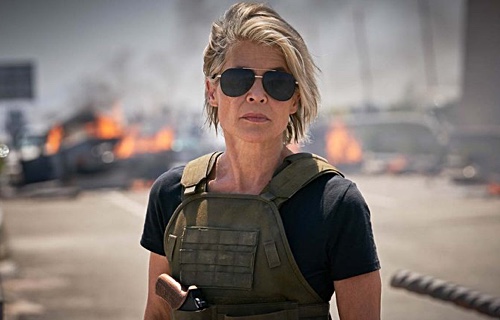 Terminator: Dark Fate (2019)
★★★ / ★★★★
It could have been just another "Terminator" sequel in which Linda Hamilton and Arnold Schwarzenegger reprise their roles as badasses Sarah Connor and T-800, protectors of John Connor, the boy who would grow up to become the Resistance leader of the war against the machines, so it is a most welcome surprise that these figures are actually critical to the heart and plot of "Dark Fate," a swaggering, risk-taking sci-fi action picture that is not afraid to make contact with old ideas from the first two films and expand upon them. It feels like a natural evolution of the series, and I enjoyed the direction it took. Should they decide to continue with this timeline, I look forward it.
Screenwriters David S. Goyer, Justin Rhodes, and Billy Ray appear to have a thorough understanding of how to hook the viewers sitting in front a "Terminator" film. Like "The Terminator" and "Terminator 2: Judgment Day," the work opens with two portals transporting two characters from the future (2042) to the current time (2020). The first is Grace (Mackenzie Davis), who appears to be machine. She moves fast and she hits hard… but she is no machine. She is an "augmented human." Here, the idea of old coming in contact with the new is introduced. The second is Rev-9 (Gabriel Luna) who also moves like a bullet and hits like a tank. It is a machine through and through. Like the impressive T-1000 from "Judgment Day," it has the ability to change its shape like liquid and harness its limbs into weapons. It is made all the more terrifying, however, with new abilities—like its flesh being separated from its metallic skeleton at will and so there is not one enemy but two—old ideas paving the way for new ones.
The first action sequence is more intelligent than just another brawl or shootout. The showdown between Grace and Rev-9 is a showcase of their strengths and, more importantly, weaknesses. Although Grace, whose mission is to protect Dani Ramos (Natalia Reyes), a young woman, seemingly ordinary, who lives in Mexico with her father and brother, but notice that unlike the T-800, T-1000, and Rev9, she gets tired eventually. The screenplay is efficient in that at the same scene it is established that the protector this time can be an advantage as well as a liability. Yet despite this, Grace is an interesting character not because of her weakness or emotions but because of her background as a soldier who volunteered 1) to become more than she was and 2) to give up her life during a critical mission if necessary. Flashbacks of a post-apocalyptic future are well-placed.
In the 1984 and 1991 "Terminator" films, we see glimpses of the future. They follow a formula: flying vehicles shooting lasers, intimidating red-eyed cyborgs stepping on human skulls, humans fighting back with old weapons and sheer desperation. This installment takes it a bit further. While it would be unfair to reveal who or what they are fighting against, I appreciated that more details than expected are provided when humanity collapsed. There is talk of food shortages, people turning against one another instead of the machines, when technology stopped connecting people. It is a bleak peek into a possibility—or a reality depending on how one looks at it—and director Tim Miller makes appropriate transitions between present and future.
Particularly effective is in how he focuses on a human face after a memory—at the tired, worn expressions of those who have already experienced their own wars. At times I wondered if they were tired of fighting. If they thought their actions would be worth it. (Certain plot surprises point to the idea that it might not be.) If they considered the potentiality that if they actually won this battle, would they be able to talk away from it. If this war against the machines was tethered to their fates; if these battles were their very purpose. It surprised me that these were the sort of questions that popped into my head while watching a mainstream, sci-fi action movie. Clearly, it is a cut above its contemporaries.
There is a shortcoming. Because Hamilton, Schwarzenegger, and Davis are such powerhouses when it comes to exuding charisma, humor, and dramatic gravity, oftentimes simultaneously, Reyes does not get enough moments to shine. An argument can be made that, although a challenge, she must stand out from her veteran co-stars. The picture, after all, centers around protecting Dani because it is claimed she has an important role in the coming war. Reyes, while capable, does not hold a candle against Edward Furlong's John Connor. The boy had so much personality, the character became an instant pop culture icon. You cannot help but remember him. Nevertheless, I am interested in seeing Reyes grow in the role should there be a direct sequel. I hope there will be because there is terrific potential here.