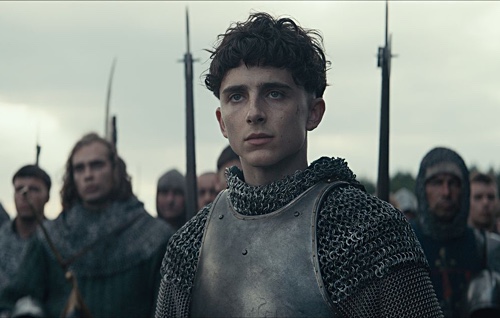 The King (2019)
★★★★ / ★★★★
Leave it to director David Michôd for pushing a more introspective take on a typical historical drama in which a person who does not wish to be king ends up with the throne, the crown, and every problem that comes with it. Based on several plays from William Shakespeare's "Henriad," "The King" stars Timothée Chalamet as Henry Prince of Wales (referred to as "Hal" by those closest to him), the wayward son of King Henry IV of England (Ben Mendelsohn) who would rather drink all night, sleep all day, and spend time with muddy commoners than to learn the finer points of how to lead a kingdom. It is an inspired choice of casting because the performer knows precisely how to convey crippling loneliness, as he has shown in Luca Guadagnino's sublime "Call Me by Your Name," and Hal is a subject plagued with this emotion from the moment he agrees to take on the responsibilities of a king.
Propelled by a slow but calculated pacing, I admired the writers' decision (Michôd, Joel Edgerton) to focus solely on who Hal is as person—a young man with a title but without power—for about a third of the picture. (An exploration of who he is as a leader comprises the rest of the film.) It is a risk because political machinations are pushed to the background and we hear of civil unrest and war abroad mostly in passing. It would have been the more generic choice to insert confrontations among old men of power—whether it be war of words or weapons—in between moments of characterization in order to compel the audience into paying attention. Here, overt action is used sparingly; most of the action employed is internal.
Instead, the viewers are flooded with instances of Hal being tested prior to becoming ruler. We learn about his level of patience, what gets him angry, who he considers a friend, what qualities he respects in a person, his fears. We take note of his weaknesses which may come to haunt him later. And so when he becomes king eventually, we have an understanding or appreciation of his core values. We expect how he might react to certain challenges surrounding his crown and country, but he retains the ability to surprise—just like a real person. Chalamet ensures to highlight the flaws of his character, especially during moments of deafening silence, because imperfection is interesting.
The relationship between Hal and Falstaff (Edgerton) is begging for refinement. For far too long Falstaff is shown as a jesting fool who just so happens to possess bouts of wisdom. Later, he is revealed to have a prodigious reputation. It would have been a compelling angle to tell their stories in parallel: the directionless young man who would don the crown and the drunken buffoon who must revert to becoming a warrior-tactician. Particularly during the latter part of the story, when political machinations and war have migrated to the forefront, I felt as though the friendship is somewhat disconnected rather than one that functions as symbiosis. I did not feel the big emotions being conveyed during critical moments.
It is without question the filmmakers are intrigued with political chess. The number of meetings that must be had is somewhat amusing, and these give way for the more colorful personalities to stand out or be introduced. Most memorable is the Dauphin of France who claims to enjoy speaking in English because it is simple and sounds ugly. This rough, vile, hilarious character who deems himself superior to everyone else is played with infectious joy by Robert Pattinson. He demands to be heard, to be seen, to be respected—just like Hal, interestingly enough. But there is a vast difference between the two figures. It is a risk-taking performance because most will regard the Dauphin as a joke. Yet he proves to have a venomous bite.
"The King" shows that a period drama need not be stuffy to be respectable. It is accessible, intelligent, aware of how human nature and psychology works. There are short as well as drawn-out battle scenes—every single one well-choreographed—but these are not the central attractions. Instead, we are invited to learn about a person who must find peace—peace for his kingdom, peace within himself—amidst the chaos he inherited. Ultimately, it is a sad story, I think, because although Hal is a king, an argument can be made that from the second he agreed to carry on the torch, he has chosen to become a prisoner of tradition, of great expectations.