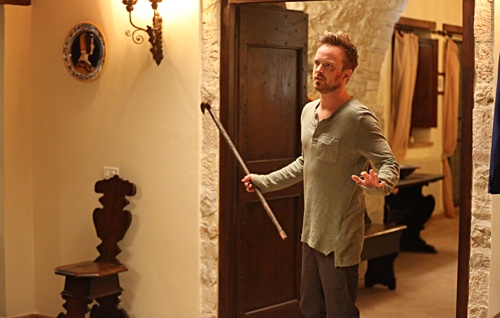 Welcome Home (2018)
★ / ★★★★
About fifteen minutes into George Ratliff's wan suspense-thriller "Welcome Home," one cannot help but wonder why the filmmakers felt the need to tell this particular story. With its familiar plot involving an American couple vacationing in a foreign countryside and coming across a creepy neighbor coupled with an execution so lacking in energy and urgency that by the time we hit the hour mark it is still laying out exposition, the entire work is an exercise in pointlessness. There are images paraded on screen, but the work fails to go anywhere genuinely interesting.
The couple is played by Aaron Paul and Emily Ratajkowski; although they are attractive together and apart, there is a desperate lack of chemistry between them. This is problematic because Bryan and Cassie are shown in various states of undress and having sex from what it feels like every other scene—as if the material were a cheap erotic thriller—we remain unconvinced of their hunger for one another's flesh. It isn't the least bit titillating. And when the central drama between the characters is introduced, the reason why Cassie and Bryan decide to rent a vacation home in the country of romance, it comes across so bland, superficial, and recycled one grows curious of writer David Levinson's inspirations. Did he have any?
The strange neighbor is not written to have enough cunningness to him. He lacks flavor and danger. Riccardo Scamarcio possesses the ability to balance charm and mischief, but his Federico is reduced to behavior: he finds sexual gratification in spying on the couple, establishing a rapport with them—especially with guilt-ridden and vulnerable Cassie—by being of use like cooking meals, and stalking them around the village. But we never discover what makes him the perfect antagonist against those he terrorizes. And because he is not particularly strong, or smart, or unhinged, he does not feel at all formidable. He is simply there to cause tension because no other character can be pit against Bryan, Cassie, or both. It feels forced.
There are beautiful shots of country home's exteriors: verdant grass swaying with the wind, the sunset's ability to underscore the geometry of cobblestone paths, the white wine-colored open sky that promises endless summer. These are worthy of being posted on Instragram. But inside the home there is conflict, distrust, anger, regret.
Bryan and Cassie are unsure whether they have a future together; their bodies are as close as can be but their spirits are miles apart. Is the relationship even worth salvaging? Had the writer focused on our obsession to create a picture of perfection for the world to see, the standard story might have had a chance to stand out and feel relevant today.
Instead, "Welcome Home" feels like a sham—a movie so uninspired that instead of taking risks, like striving to make a compelling or haunting statement about broken relationships, it would rather pile on clichés on top of an already bland premise. By the end of the story, we have two dead bodies and yet we are not moved or surprised by the plot developments. Even its major twist lacks special punch.