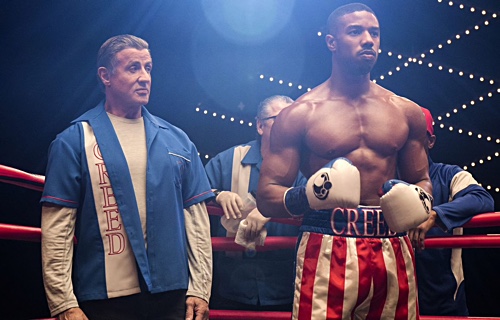 Creed II (2018)
★★★ / ★★★★
Steven Caple Jr.'s "Creed II" succeeds in delivering big entertainment because it has a knack for forcing the audience to taste the bad blood between Adonis Creed (Michael B. Jordan) and Viktor Drago (Florian Munteanu)—which stems from the former's father having died in a boxing ring in the hands of the latter's father, Ivan Drago (Dolph Lundgren). And just like strong "Rocky" pictures that came before, the director proves to have an eye for placing us in the middle of action as punches are delivered with lightning speed and droplets of blood are pummeled out of the pugilists. It cannot be denied that the project is made with skill.
The material brings up the question of what happens after a fighter becomes a heavyweight champion. And yet it is not about defending the belt or the title. The screenplay by Juel Taylor and Sylvester Stallone (who returns as Rocky Balboa, Adonis' trainer and mentor) is smart to root the drama in something more grounded, a core with a higher dramatic pull. It is about people coming to terms with the hand they are given and playing it as astutely as they are able. Sometimes you lose and hands turn into fists; sometimes you win and it is cause for celebration. And sometimes, still, you win without being aware of having won and so, in your eyes, an external element that stirs your own insecurities must be correct. And so, too, the picture is about having to face one's demons.
Central and supporting performances are all on point. Jordan and Stallone share such wonderful chemistry, their characters need not say even a word for us believe that the men respect one another not solely as fighters but also as men who've survived and lived. There are small but moving moments—in the boxing ring nonetheless—when Adonis regards Rocky as a father—not as a trainer—and the latter knows precisely what to say or do in order to give his son just a little bit more confidence in order to move forward. The boxer-mentor, father-son relationship is not explained but expanded upon from the previous "Creed" film—smart because the sequel manages to avoid the usual expository scenes and dialogue most of the time.
Although the romantic partnership between Adonis and Bianca (Tessa Thompson) may play like a Lifetime movie at times, I found sweetness in it. Like Adonis' relationship with Rocky, there is mutual respect between the boxer and the singer-songwriter; they consider one another to be equals and so when one falters, the other picks up the pace. The pacing might have been improved if some of their interactions were written more elegantly, leaving something for the audience to consider rather than showing every significant moment between their engagement and raising an infant. The passage of time is questionable on occasion. Here, it seems that serious, nearly grave injuries, including physical therapy, can be overcome in less than a year. This might come across as nitpicking, but minute details matter in strong dramas.
But I had an absolute blast with the boxing matches between Creed and Drago. Munteanu creates a formidable villain due to his sheer size, strength, and agility. It is acknowledged that his character has been brought up in hate. This is thoroughly convincing in the way the character pummels his opponents right when the bell rings, often knocking them out in a single round. He is like a tank wearing human skin and one cannot help but feel anxious simply by looking at his frame. You look at the young Drago and wonder how in the world Creed, who is also well-built, would—or could—manage to overcome such a hungry, rabid dog.