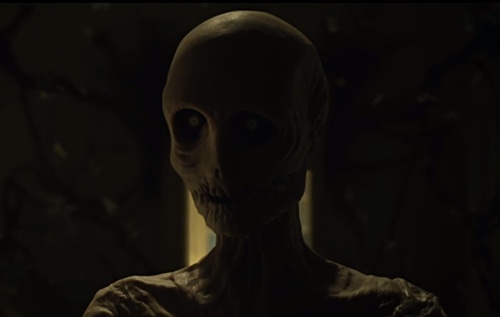 Before I Wake (2016)
★★ / ★★★★
"Before I Wake" combines dark fantasy and horror with mixed results.
On the one hand, there is an interesting story involving a foster child, Cody (Jacob Tremblay), who has the ability to turn his dreams into reality, but he is not yet able to control it. There is a curious dynamic between the boy and his most recent foster parents (Kate Bosworth, Thomas Jane) because there is immediately a question in our mind whether the couple would choose to use Cody's double-edged gift so that they could see and interact with their recently deceased son (Antonio Evan Romero). The screenplay by Mike Flanagan and Jeff Howard, the former directing the picture, does not shy away from human nature—even at the expense of putting a child in danger.
The picture invites the viewer to look at it closely, especially during dream sequences. We are provided peaceful images of butterflies fluttering about in well-lit, well-decorated rooms yet the tone can pivot just as quickly toward darker territory. This is where horror elements come in. Silence is used effectively, particularly during tension-building early in the picture when the audience does not yet have an idea of the threat Cody mentions: The Canker Man, how it appears in his nightmares sometimes and eats people. Notice the careful use of shadows to prevent the viewer from seeing too much too soon. Flanagan has an understanding of how horror pictures work—not a surprise considering he helmed the excellent but largely undiscovered "Absentia."
On the other hand, the film can be quite repetitive. Jessie and Mark trying to stay awake in the living room by drinking loads of coffee just in case Cody dreams of their son suffers from diminishing returns. Must we really endure yet another discussion regarding how much the couple misses their son? Must we look at yet another family picture with the smiling dead child in it? Perhaps the point is to establish a molasses-like pacing in order to communicate the crippling depression of the household. Repetition can work but the wrinkles in the formula must be introduced with great energy to keep the material from becoming stale.
Although the screenplay gets to it eventually, there is not enough investigation into Cody's interesting past in order for the mystery to be resolved. For example, the reason why Gore Verbinski's interpretation of "The Ring" works so well is because it works as a detective story. Time is utilized to soak us into its deepest secrets. Here, only about fifteen minutes is dedicated to stealing official documents, talking to the right creepy people, and going through red tape. As a result, the final third comes across as rushed and superficial.
With a few more passes of revision, "Before I Wake" might have offered a superior experience. The right elements are there, but fat needs to be shed in order to make room for meaty details. As is, it is tolerable but not particularly memorable.