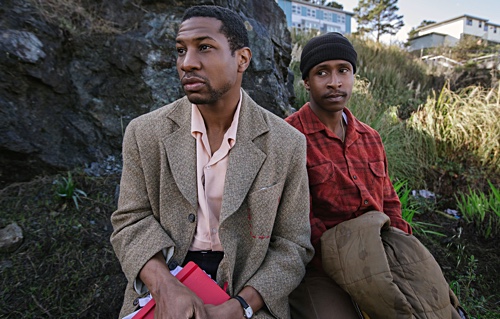 The Last Black Man in San Francisco (2019)
★★★★ / ★★★★
"The Last Black Man in San Francisco" brings to mind the great filmmaker and photographer Agnès Varda because of the way it focuses, studies, and falls in love with regular faces. Black faces specifically—of varying age, skin color, and personality—are front and center in this beautiful and pensive picture, so filled with small surprises and big emotions without feeling the need to cultivate and deliver a plot driven story where things happen just because it is expected. A case can be made that the fact that things don't happen, at least in ways we thought they would—is what makes the work special. The film is freedom translated to moving images and I hope that aspiring filmmakers would look at this movie and follow its example. It is an original.
The vibrant screenplay is written by Joe Talbot (who directs), Robert Richert, and Jimmie Fails; it is apparent they grew up and love San Francisco because every breath the movie takes is not a negative space or moment like so many generic films tend to offer. Observe that in between "action" are shots that communicate culture: an old building, a sunset, the night sky, a famous bridge, a strange mode of transport, an antique, people briskly walking to their destinations, an unkempt street corner, the traffic downtown, a mom and pop store. No wasted image.
When characters are engaged in conversation, whether it be outdoors or indoors, there are details that prove not one scene is shot in a studio. Some events are unplanned; the performers go along with them. At times magic is created from happenstances. Look closely enough and notice regular folks—who may not be aware there is a movie being filmed—making direct eye contact to camera. Every second is alive, a risk, a joyous celebration of making a movie, and it feels like being in a specific place at a specific time. At its best, it feels like a documentary. Accidents or mistakes are turned into strengths. There is overwhelming positivity and so we are inspired to embrace imperfections.
The plot—for those who need it—revolves around Jimmie (Fails) and Montgomery (Jonathan Majors), best friends who decide to squat in a Victorian home after the owners leave due to a death and resulting family drama. Jimmie lived in this particular house when he was a boy and he feels the need reclaim it, especially since it is said that his grandfather built it in the 1940s. There is a four-million-dollar asking price for the house. (Finn Wittrock plays the real estate agent.) There is convincing drama because we know that Jimmie is fighting against the impossible. Time is against him. So is the system. He is not rich. He is black man in a mostly white neighborhood. Just because you want it badly enough does not mean you get to have it.
Homelessness lies in the center of this thoughtful piece. There is the physical definition that every one of us is aware of. After all, people tend to equate San Francisco with its growing homeless population. But then there is the spiritual definition which the film so beautifully explores. Jimmie is so driven, so obsessed, to live in this house he does not own that his identity becomes tethered to his imaginary ownership. When his need is threatened, trauma is revealed not in predictable ways. There is a reason why we meet his father (Robert Morgan), aunt (Tichina Arnold—a very welcome warm presence), and mother (LaShay Starks). We look away from the homeless; Jimmie yearns to be seen.