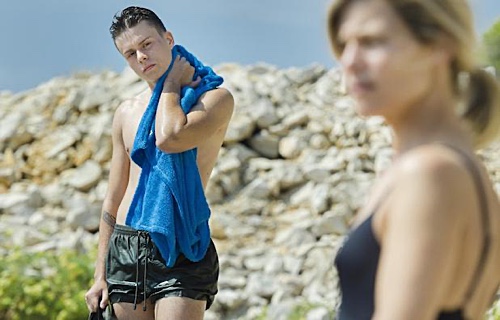 The Workshop (2017)
★★★ / ★★★★
The quietly alluring "The Workshop," written by Robin Campillo and Laurent Cantent, is courageous because it asks the viewers to empathize with a young man who has the potential to become radicalized by the extreme right. The keyword is "potential" because the material, for the majority of the time, is vague in terms of which path the curious character might take. He shows a number of so-called warning signs of a person who might shoot up a school or a grocery store: He is a loner, he possesses an above average intelligence, he has a proclivity for violence in terms of ideation and media consumption, and he listens to extremist right-wing rhetoric—"so-called" because I do not believe any of these factors, singular or in combination, necessarily lead to violence.
The subject is named Antoine and he is played by newcomer Matthieu Lucci, whose future is so bright should he wish to pursue more challenging roles as he so willingly tackles here. I found that his choices are fresh, particularly in how he portrays Antoine who thinks he is already a man but, in actuality, he is only a boy. Lucci commands great intensity when required and he is readily able to exude warmth at a moment's notice. Notice how he interacts with adults, especially those who have some sort of power, versus his peers and children. Here is a performer with the potential to make a career of pretending to be someone else. He finds subtleties in his character's frustration and anger.
The strongest moments in the film involve a successful novelist named Olivia (Marina Foïs) leading a group of diverse teenagers to brainstorm what sort of thriller they should write during the summer. Every single participant commands a distinct personality; even the quieter ones have something important or insightful to say, whether it terms of their group dynamics (sometimes they disagree to the point of physical confrontation about to break out) or the story they attempt to write.
It is so rare, especially in mainstream American films, to show teenagers as they are—flawed, challenging, contradictory, full of vitality—instead of some Hollywood idea, a fantasy of how teenagers ought to think, or act, or talk. Due to the screenplay's sharply drawn characters, I enjoyed their fierce clashes as well as their unity. Each one has a reason for attending the writing workshop. Most importantly, by sitting in their sessions, we come to understand why the members choose to return for the next meeting even when the previous session may have been awkward, uncomfortable, or downright ugly.
But the main push of the plot involves the instructor's suspicion that one of her students, Antoine, is a bomb waiting to go off. Although still quite solid, particularly with regards to the author being attracted to fear and threat of violence, I found her investigation to be less interesting than Antoine's moments of isolation. Lucci communicates so much by simply looking at a distance or the way his body language changes when Antoine senses lies. I think the two would have been more interesting together if the material had further explored the twisted attraction between them. There must be a reason why Antoine follows and spies on his instructor. No, it is not due to a sexual nature. I think it is because, finally, someone recognizes his potential. Look at his family and friends. No one engages him on his ideas.
Some viewers will take one look at Antoine and label him as a young extremist. Although unfair, that's the kind of world we live in—and I believe that's the point the film attempts to make, how we are built to judge based on patterns that fit—or at least seem to fit. It has been a while since I have encountered a project that deals so intelligently with a misunderstood young person.