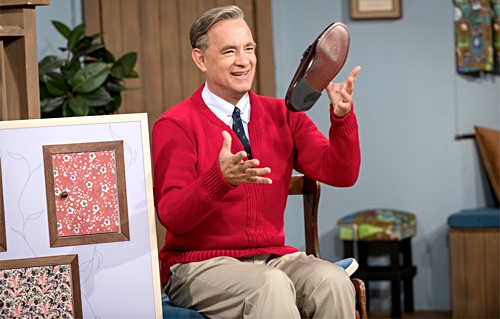 A Beautiful Day in the Neighborhood (2019)
★★★ / ★★★★
Based on the Esquire article "Can You Say… Hero?" by Tom Junod, the biographical drama "A Beautiful Day in the Neighborhood" manages to stand out a bit from its contemporaries because it is able to capture the essence of Fred Rogers (known to many Americans as Mr. Rogers)—even though the work itself is not about him. It employs slow but purposeful pacing to fascinate, silence to give us room to consider, and irregular beats to draw us deeply into the conflict surrounding a man who cannot find it within himself to forgive his father.
Matthew Rhys plays investigative journalist Lloyd Vogel with a convincing weariness. One looks at his face even for just a few seconds and seething anger can be felt. But the anger is not menacing; rather it is the kind that eats up its host little by little, decade after decade. This anger reaches a boiling point when Lloyd's father (Chris Cooper) is suddenly thrown back into his life. Rhys delivers a solid performance that stands strong alongside Tom Hanks' interpretation of the legendary Mr. Rogers. When the two are engaged in a reflective exchange, for instance, they manage to hit every subtle emotion seemingly without effort. When the camera is up close and personal and emotions are exorcised, it feels like a dance.
I think it is a challenge to pull off this type of script. A jaded person crossing paths with a saintly figure and the former learning to have a more positive outlook on life by the end of the story is nothing particularly new. However, there are enough fresh ideas here to blindside the viewers from identifying the more familiar turns of the plot—like taking Mr. Rogers' empathetic/humanistic approach of dealing with "the mad" one feels, which is targeted toward children, and applying this idea to adults. Had it been helmed by heavier hands, it could have been reduced to yet another Lifetime drama where everyone cries during the climax and all is happy by the end credits. Marielle Heller's direction is careful and nuanced, so the journey comes across genuine.
Having seen Morgan Neville's terrific documentary "Won't You Be My Neighbor?", I admit I was put off by Hanks' performance initially. The film opens with Mr. Rogers entering his home, making eye contact with the viewers, taking off the blazer, putting on the famous red cardigan… while singing the theme song. Although I did not grow up with Mr. Rogers or his television program, I felt as though Hanks is more on the side of imitation rather than simply inhabiting.
Having said that, I grew to enjoy his version of Mr. Rogers about a third of the way through—when the character is no longer shooting another episode in front of the camera. Curiously, he remains to be a saint-like figure. It is acknowledged Mr. Rogers is not perfect and does feel anger from time to time, but this is shown only once. The fact that he had challenging relationships with his sons is mentioned, but it is disappointing that it is not delved into. It would have been appropriate because the central conflict revolves around father and son. The thought of the picture being afraid of putting a stain on Rogers' memory and legacy crossed my mind.
Despite this key shortcoming, I was emotionally engaged by the film. I wondered not necessarily whether Lloyd would choose to forgive his father but rather if he could forgive himself in allowing so many years to pass for harboring so much anger and hatred. Make no mistake that this is Lloyd's story, not Mr. Roger's. It does, however, make an appropriate and worthy companion piece with "Won't You Be My Neighbor?" in that both provide layers worth examining closely.