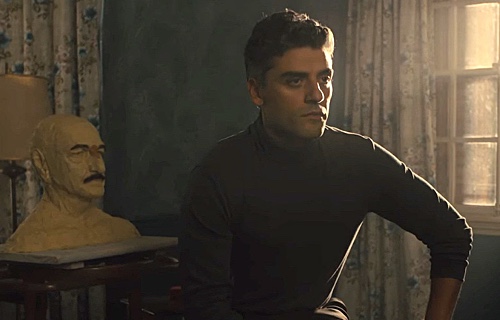 Operation Finale (2018)
★★★ / ★★★★
"Operation Finale" is like a car that has stalled—it requires a bit of push in order to get going. But once it is over the hump, the ride is suspenseful, thrilling, and also quite surprising at times. The plot is based on a true story involving a team of Jewish operatives who are tasked to capture Adolf Eichmann (Ben Kingsley), a war criminal considered to be one of the masterminds of the Final Solution—the systematic extermination of six million Jews in Nazi Germany—who is hiding, along with his family, in Buenos Aires. The Mossad agents must get him on a plane bound for Israel so he can be prosecuted for his crimes. We know how it is going to end. But like all true stories that undergo dramatization, what matters most is the details.
The first quarter of the picture is mildly interesting but messy. First, the many pieces that must be juggled are not handled with a high enough level of energy designed to combust and propel the significance of the mission. It goes by the assumption that the viewer already has knowledge of the monstrosities the Nazis had done to the Jews during World War II—a mistake because not everyone is well-versed in history. (Yes, even a mass genocide that each person should know about. You'd be surprised.)
This leads to the second shortcoming: the many faces and personalities introduced are not provided informative or relatable background information. And so when the Mossad agents finally do get together, we know only one or two of their names. There are seven of them—at least. One might argue, however, that this is the point: the operatives are but a part of a mission—expendable should they fail. But I argue that is important that we have understanding of at least half of them.
The reason is because the picture is a drama at its core, not a fictional action-thriller. The film is not about stunts or action sequences but the psychology of the Israeli secret agents, their anger, their hunger for justice. There is sporadic talk of agents having lost loved ones in concentration camps. Thus, it is critical that we have an appreciation of where each agent is coming from, to have a specific perspective of a mission so monumental, that failure could mean injustice for those who perished, perhaps forever.
The material's strength is most undeniable once Eichmann is in the hands of the Mossad agents. They must stay in the safe house for ten days due to flight delay—without arousing suspicion. Meanwhile, Eichmann's fellow Nazis, including his son (Joe Alwyn), inch closer toward the safe house. Every minute counts. And every scene is a march toward an inevitable conclusion.
Oscar Isaac plays Peter Malkin, a man still haunted by the death of his sister and her children. Isaac's interpretation of Malkin is fascinating because the motivation is not anger first and foremost. Malkin, the character, does not seem to be aware of this initially. But we do because we see it in Isaac's eyes when he is alone, how he moves, how he thinks through an objective, short- and long-term. The opening scene is most telling: Malkin is horrified when he learns his team ended up killing the wrong Nazi. Meanwhile, his fellow agent is blasé because the person they killed is still a Nazi after all.
And then there is Kingsley, accomplishing so much with so little. Notice that although a blindfold is covering half of his face and his head is in profile relative to the camera, while sitting in a dark room, his presence is able to overpower the space and those around him should he choose to do so. Most suspenseful—and worthy of contemplation—are interactions between Kingsley and Isaac exactly because the screenplay by Matthew Oerton is willing to take a look at evil, not to judge it or indulge it but to examine it. It dares us to consider the humanity of Eichmann specifically—not the Nazis as a group—while at the same time tasking us to sift through his lies, manipulations, and possible power play.